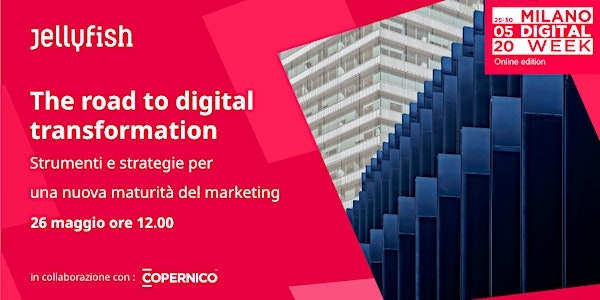 The road to digital transformation | MilanoDigitalWeek
Descrizione
The road to digital transformation:

strumenti e strategie per una nuova maturità del marketing.

In questi mesi molte aziende hanno dovuto accelerare il proprio processo di digital transformation per affrontare e poter rispondere ad una situazione alla quale non erano adeguatamente preparate.

In questo webinar, curato da Jellyfish, analizzeremo i diversi step di maturità digitale dei brand, concentrandoci poi sugli strumenti utili per accelerare la digital marketing transformation.




Workshop promosso da Copernico in collaborazione con Jellyfish.

-----
Partecipare è semplice: registrati qui su Eventbrite e poco prima dell'evento riceverai il link a cui collegarti per assistere al webinar.
Ti aspettiamo!