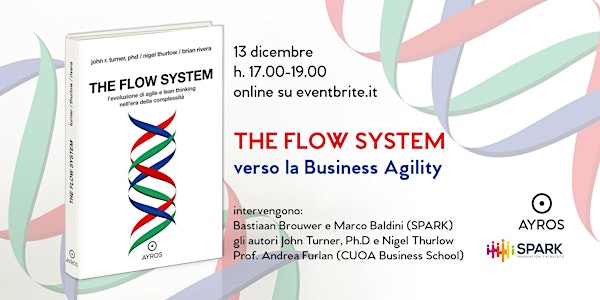 THE FLOW SYSTEM - verso la Business Agility
The Flow System è un approccio multi-metodo, fondato su una solida teoria e una pratica rigorosa, che permette di imparare senza imitare.
Informazioni sull'evento
Business Agility e innovazione organizzativa, quali sfide per le aziende italiane?
Dopo il SUMMIT LEAN E AGILE 2022 , ecco in arrivo una nuova occasione per le comunità business italiane di incontrare gli autori di The Flow System. L'evoluzione di agile e lean thinking nell'era della complessità: Nigel Thurlow e John R. Turner.
Un dibattito che porterà assieme il punto di vista della ricerca universitaria e quello del gemba
The Flow System è un'opera ambiziosa che nasce dalle solide fondamenta del Toyota Production System, o Lean Thinking, e che capitalizza la lezione potente delle pratiche Agile, portando l'una e l'altra tradizione a un nuovo stadio olistico, capace di abbracciare l'organizzazione e il suo ecosistema.
In mercati sempre più incerti, sta prendendo forma un nuovo dna di organizzazioni capaci di cambiare al ritmo del cambiamento esterno,di adattarsi e di generare continuamente nuovo valore per e con i propri clienti.
Il sistema si sviluppa articolando tre prospettive,le tre eliche del dna, che soltanto se interconnesse e sincronizzate consentono all'organizzazionedi essere "a flusso":il pensiero della complessità, la leadership distribuita e la scienza dei team.
La tripla elica del Flow System:
Complexity Thinking. Un nuovo mododi pensare per aiutarci a comprendere l'incertezza e interagire con sistemi complessi e adattivi.
Leadership distribuita. Un modello di leadership emergente e ibrido che abilita la capacità di compiere mosse coraggiose e innovative dentro e fuori la propria industry.
Scienza di Team. Un campo multidisciplinare per analizzare e implementare le dinamiche dei piccoli gruppi all'interno delle organizzazioni.
AGENDA
Welcome: Bastiaan Brouwer e Marco Baldini di SPARK Innovation Catalysts
John Turner
Nigel Thurlow
Prof. Andrea Furlan (CUOA Business School)
Domande agli speaker e dibattito
Q&A con il pubblico
Ringraziamenti