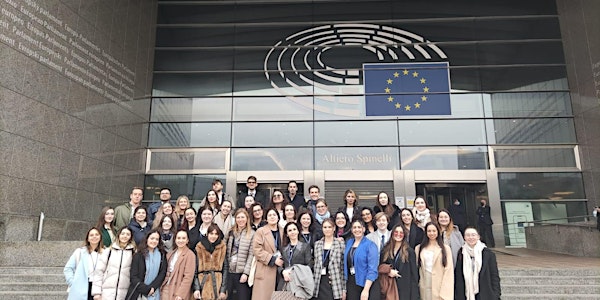 Study Mission Brussels – June 2023
Onsite learning-by-doing exercise where you can experience the work of the main Institution in Brussels.
Di Eastwest European Institute
Data e ora
mar 30 mag 2023 10:00 - ven 2 giu 2023 17:00 CEST
Località
Bruxelles Bruxelles 1000 Bruxelles Belgium
Politica di rimborso
Contatta l'organizzatore per richiedere un rimborso.
Informazioni sull'evento
3 giorni 7 ore

eTicket mobile
During this Study Mission, we will give voice to the key players of this reality, offering participants opportunities to meet high-level personalities: politicians, diplomats, representatives of institutions, and private companies.
The project will help students to understand the importance of the Institutions present in Brussels and will orient participants to elaborate analysis and perspectives on the topic of Climate Change and Current Geopolitical Scenario.
University students and recent graduates will gather to exchange their ideas and build a network of young professionals with a strong awareness of European values.
STUDY PACKAGE BRUSSELS
The week following the Study Mission Brussels you can decide to take part in the Model EU Brussels. Model EU Brussels will let you learn more about the functioning of the central European institutions, thanks to direct experience of the ordinary EU legislative procedure with the learning-by-doing method.
Payment options:
€1130 – Full basic package Study Mission Brussels (hotel incl.) + Model EU (hotel excl.)
€1555 – Full package with 9 nights in Brussels Study Mission Brussels (hotel incl.) + Model EU (hotel incl.)