Calligraphy workshop with Chiara Riva - On Line class via Google Meet
Informazioni sull'evento
In addition to traditional nibs such as the broadedge and pointed nibs, there are nibs with particular points: square or round section. These nibs can be used to draw strokes with rounded endings, or to characterize letters with particular contrasts. Starting from the skeleton of a writing known to us, we will discover how to use these tools, in more or less conventional ways, through variations of rhythm and contrast, helping us with manipulation techniques.
Class Schedule: We will meet Fri January 22, 2021 (from 07:30 PM to 08:30 PM Rome Time), Sat January 23 & Sun January 24 2021, from 03:00 PM to 05:00 PM Rome Time and Sat January 30 & Sun January 31 2021, from 03:00 PM to 05:00 PM Rome Time. Our first meeting is a brief intro and dry-run test call for about an hour.
This is a LIVE class, which is recorded for your enjoyment and review, then uploaded to a Google Class Room dedicated.
The video links will be available for 2 months, after that the link will expire. The link is personal, please don't share it.
The Google ClassRoom will be our virtual classroom for every time we meet and allow us to interact each other in easy way. When the link and intro email is sent to you, click the link, which will open a web page in your web browser.
MIN 10 MAX 20 participants
LANGUAGE: ITALIAN
Material included in registration fee:
- Handouts in PDF
- Video recording available for 2 months.
- Video extra: video close up, in order to have a different perspective of brush movements during letters execution
Workshop Program:
- Coming soon
Instructions:
- Buy the Workshop
- Three days before the Workshop, you will receive the PDF handout and your personal address to access the Classroom Google and the Google meet link by email.
Prerequisites:
-Level of experience required: You can be part of this class if you have a basic experience with Italic calligraphy and/or italic with brush pen.
-IMPORTANT: for registration into the classroom is needed a google email that must be provided at registration time
- using CHROME browser, Google Meet don't work well on other browsers
SUPPLY LIST (Not included in registration fee) US SHOP: www.johnnealbooks.com/ • ITALY SHOP: www.calligraphystore.it
- COMING SOON
Biography
Chiara Riva, graphic designer, specialized in Italy studied with different Italian and foreign calligraphers. Some of her works have been featured in various publications, including the magazine "Alphabet". Guest of several festivals including Ininco, Torino Graphic Days and Outdoor festival, author of the book "Il senso della linea", she has taught in Italy and in Paris. Lecturer for the Italian Calligraphic Association, he works as a freelance between Milan and Rome.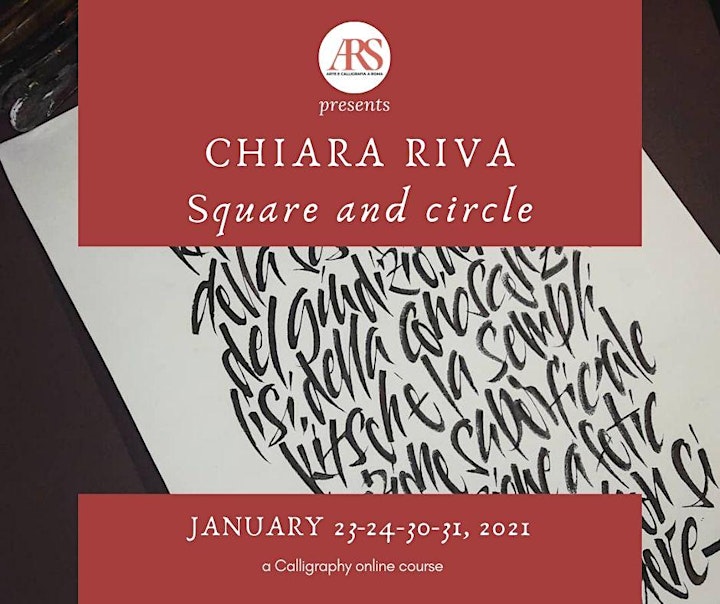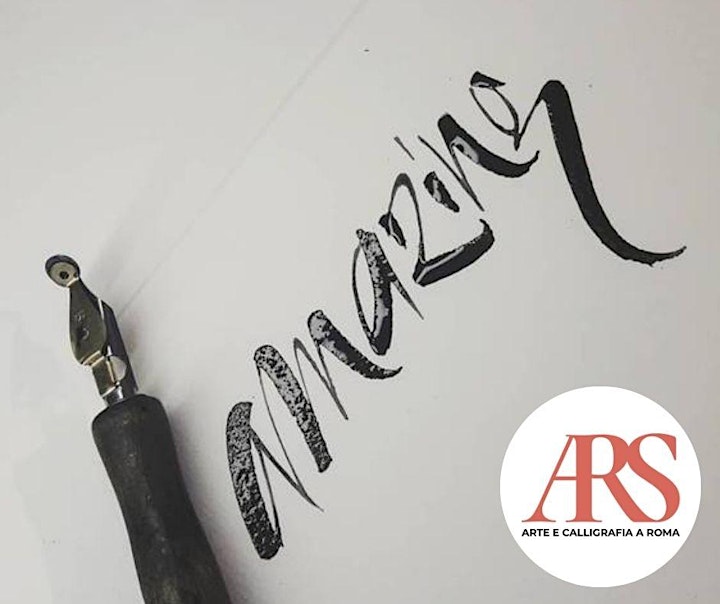 Organizzatore di Square and circle - Calligraphy workshop with Chiara Riva
Ci occupiamo di divulgare l'arte della Calligrafia attraverso corsi tenuti da Maestri Calligrafi di fama internazionale.