SOS Open Anupama Kohli
The lecture revolves on the influence of architecture on the emergence on an Indian response to Climate, Tradition, and the Economic growth
Informazioni sull'evento
Professor Anupama Kohli, renowned Indian scholar and architect, will give a lecture revolving on the works by Kanvide, Raj Rewal, B.V. Doshi (Pritzker 2018), Stein- Bhalla, Design Group - Ajoy Chaudhuri- Ranjit Sabiki, Charles Correa, Kirti Shah, Vasant Kamath, Laurie Baker. Their achievements will be seen in the framework of a search for Indian roots and local responses" to Climate, Tradition, and the Economic growth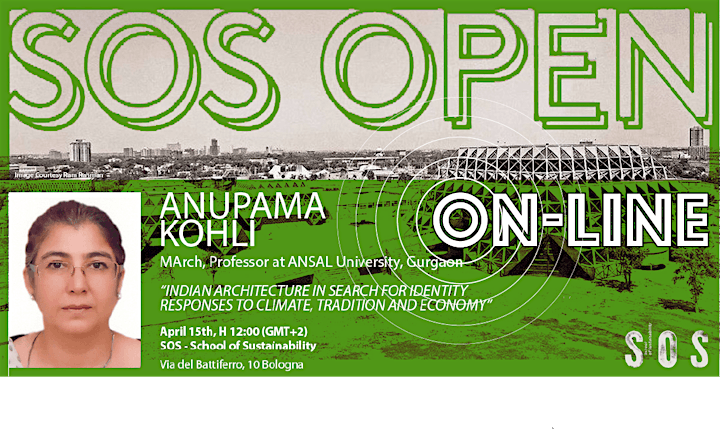 Anupama is an architect and sustainability advocate with over two decades of experience in projects design and advisory. Her work is informed by her belief that the best design solutions are a function of the dialogue between innovation and tradition, grounded in functional realism while incorporating new interventions in the regional environments. Parallel to her professional work she has also been engaged in teaching and mentoring.
Her interest in alternative development and planning shaped her professional trajectory into areas of low energy design, alternate building technologies, heritage and context sensitive design. Her early work as a partner in Anupama & Rajeev Associates, reflects this engagement with designs based on translation of regional architecture and several experimental projects.
Subsequently she completed her graduate studies from the University of California, Los Angeles, specialization in energy efficient and sustainable design and planning. While at UCLA she also won the Leading Edge International Design competition for Eco Development in California.
As principal of Anupama & Associates a full service, architecture design and consulting practice she continued to translate her belief in resource efficient and context responsive design into a diverse portfolio including institutional, heritage and corporate projects. The Restoration and Adaptive Reuse of the Vice Regal Lodge and Faculty of Mathematical Sciences at the University of Delhi are amongst some of the projects which won her public and professional accolades. She has served as advisory consultant and member on committees of several Government of India bodies including the Ministry of Information and Broadcasting, the New Delhi Municipal Corporation and the Indira Gandhi National Centre for the Arts.
She has served as a visiting faculty at several national and international architectural colleges including at the Canadian University Dubai, Amity University Dubai and the School of Planning & Architecture at Delhi. Several of her projects have been published.