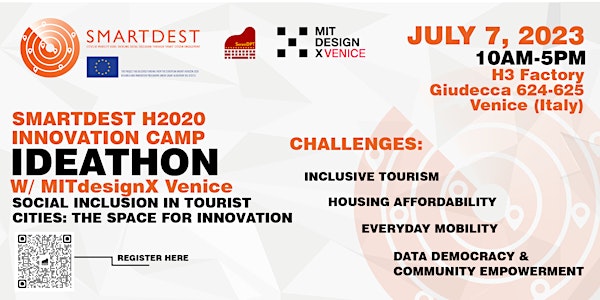 Smartdest H2020 W/ MITdesignX Venice: Innovation Camp - Ideathon
An opportunity to apply the methods of MITdesignX to the the issues that have emerged from the SmartDest project.
Data e ora
ven 7 lug 2023 10:00 - 17:00 CEST
Località
SerenDPT Srl SB Giudecca 624/625 Campo San Cosmo 30133 Venezia Italy
Programma
10:00 AM - 10:30 AM
Registration
10:30 AM - 11:00 AM
Welcome from Camp Convener + Rules of the Ideathon
11:00 AM - 12:00 PM
Rounds and corners' sessions (2 sessions, 30' per session)
Lunch Break (lunch boxes available)
1:00 PM - 3:00 PM
Rounds and corners' sessions (4 sessions, 30' per session)
3:00 PM - 3:30 PM
Idea development - Presentations are finalised
3:30 PM - 4:30 PM
Plenary Presentation of the proposals
4:30 PM - 5:00 PM
Closing the Camp
5:00 PM - 6:00 PM
Aperitif Networking
Informazioni sull'evento
The SmartDest Ideathon challenges participants to develop viable solutions to address the main issues that have emerged across all 8 participating cities of the SmartDest project. The whole day is dedicated to the identification and refinement of innovative ideas, while creating synergies with other participants, in a dynamic and engaging way so that a diverse group of participants can share skills and insights with one another. The SmartDest Ideathon is a form of participatory, collective brainstorming that fosters networking and co-design with the ultimate goal of identifying specific actions and initiatives that address the problems of social exclusion -- caused by the new models of tourist and transnational mobility -- that emerged across all participating cities during the SMARTDEST research project.
This event will give also the opportunity of facilitating the formation of strong interdisciplinary teams that can make a successful submission into the MITdesignX Venice program. (Submissions are open until July 31, 2023).
The challenges on which participants are called to find ideas and solutions (possibly startup ideas) are dedicated to solving problems experienced in cities that are the hub of tourism and other related mobilities:
Inclusive Tourism
Housing Affordability
Everyday Mobility
Data Democracy & Community Empowerment
Participants in the Ideathon who already have a well-shaped idea are invited to fill out this FORM (preview here) in advance (by July 3, 2023). The best ideas will be assigned a private corner open for discussions with other participants throughout the event.
Participants who don't have a clear startup idea or are not already part of a team will be able to forge collaborations for joint ventures. They will be able to join rounds of discussion at each corner.
Idea promoters and facilitators stay at their corners throughout. Every 30' participants move to another corner. After 6 rounds (3 hours) all participants come back to plenary.
Idea proponents (individuals or teams) & facilitators summarize reshaped ideas and lessons learnt. SmartDest consortium will award the best startup idea with a prize.
Our facilitators will be on hand to help guide the entire process.
(*) At MITdesignX Venice, Intellectual Property (IP) is considered the property of the individuals and/or teams. MIT and SerenDPT will not stake IP or patent claims to new ideas developed at MITdesignX Venice.
Info sull'organizzatore
SerenDPT sta tornando con la seconda edizione di MITdesignX Venice in collaborazione con il MIT di Boston!
MITdesignX Venice è un'iniziativa pluriennale frutto della collaborazione tra il prestigioso MIT di Boston e SerenDPT Società Benefit veneziana. Si tratta di un programma di accelerazione gratuito, condotto da docenti del MIT, a supporto di studenti, professionisti, sviluppatori e imprenditori impegnati nella creazione di nuove startup dedicate alla risoluzione di problemi del mondo reale. SerenDPT prevede incentivi per quelle startup che scelgono di avere sede a Venezia, così da contribuire al ripopolamento della città lagunare, creando posti di lavoro di alta qualità per persone di tutte le età e veneziani di ogni origine.
Per saperne di più, clicca qui!
Per restare sempre aggiornato, compila il form per l'espressione d'interesse e visita il sito ufficiale del MITdesignX Venice
SerenDPT is back with the second edition of MITdesignX Venice in partnership with MIT of Boston!
MITdesignX Venice is a multi-year collaboration between MIT (Boston) and SerenDPT, a venetian benefit company. It is a free accelerator program, conducted by MIT faculty, to support students, professionals, developers and entrepreneurs who are committed to creating sustainable startups that provide solutions to real-world problems. SerenDPT provides incentives for startups that choose to locate their headquarters in Venice, so they can contribute to repopulating the city and the lagoon, by creating high-quality jobs for young people of all ages and Venetians of any origin.
To learn more, click here!
To receive all the updates, fill the form of the expression of interest and visit the official website of MITdesignX Venice