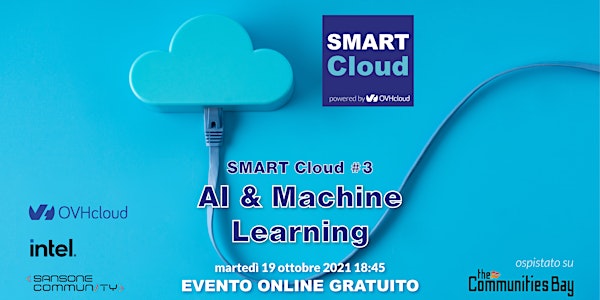 SMART Cloud #3 • AI & Machine Learning
Terzo meetup della serie di incontri online e gratuiti «SMART Cloud»: 2 talk su Intelligenza Artificiale e Machine Learning!
Informazioni sull'evento
★彡 EVENTO ONLINE 彡★
SMART Cloud è la serie di incontri online gratuiti dedicati ai Dev e professionisti del mondo IT per restare aggiornati sulle ultime tecnologie e piattaforme dell'ecosistema del Cloud Computing.
❰❰❰ Federated Learning: dati protetti al servizio dell'IA ❱❱❱
con Walter Riviera, Intel
Quando si parla di Intelligenza Artificiale non si puo' non parlare di Dati. Dati che benche' disponibili, potrebbero non esser facilmente accessibili: per ragioni pratiche o legali (per esempio, se protetti da GDPR, POPIA, etc..). In questa sessione vedremo come indirizzare il problema dell'accesso a dati sensibili per addestrare modelli di Intelligenza artificiale, mantenendo il rispetto delle policy in loco che ne garantiscono la privacy.
❰❰❰ Apprendimento Automatico Continuo per un'Intelligenza Artificiale Sostenibile ❱❱❱
con Vincenzo Lomonaco, Unipi
In questo talk, esploreremo insieme il concetto di apprendimento automatico continuo, le sue motivazioni fondanti e perché esso rappresenta una tecnologia abilitante per lo sviluppo di un'Intelligenza Artificiale efficiente, scalabile e sostenibile.
Attestato di partecipazione
Tutti coloro che parteciperanno alla diretta – e "firmeranno" il registro di presenza :-) – riceveranno il giorno successivo l'attestato di partecipazione!
Agenda
SMART Cloud #3 • AI & Machine Learning
18.45 Benvenuto Innocenzo Sansone & OVHcloud
18.55 Federated Learning: dati protetti al servizio dell'IA Walter Riviera, Intel
19.55 Apprendimento Automatico Continuo per un'Intelligenza Artificiale Sostenibile Vincenzo Lomonaco, Unipi
20.25 Quiz e Lottery 🏆🏅
Quiz e Lottery finale
Alla fine dell'incontro potrai metterti alla prova insieme agli altri partecipanti con alcune domande sui talk che avrai appena seguito e partecipare alla Lottery con un tuo selfie! Ci saranno tante sorprese ;-)
Entra a far parte della Community
Partecipa ai tech meetup ed entra nella Community SMART Cloud per ricevere formazione gratuita e restare in contatto con gli speaker, le aziende e tutti gli altri partecipanti interessati ai temi del Cloud!
Tutti i tech meetup gratuiti in programma
Durante questa prima serie parleremo di:
Iscriviti subito a tutti gli incontri online!
Cosa intendiamo per SMART Cloud?!
Semplice: sicurezza, manutenzione e aggiornamenti gestiti.
Multilocale: datacenter dislocati nel mondo e mantenuti da team locali per garantire la sicurezza dei dati e il rispetto delle normative vigenti.
Accessibile: una vasta gamma di soluzioni a tariffe competitive e trasparenti, per una tecnologia alla portata di tutti.
Reversibile: interoperabilità ed ecosistema aperto in cui gli utenti mantengono il controllo su tecnologie e piattaforme.
Trasparente: informazioni chiare relativamente a tariffe, servizi e opzioni.
OVHcloud
OVHcloud è un attore globale e il principale provider europeo di servizi cloud che gestisce 400.000 server all'interno dei propri 30 data center in 4 contenti. Da 20 anni il Gruppo fa leva su un modello integrato che fornisce il pieno controllo della catena di valore, dalla progettazione dei server alla gestione dei data center fino all'orchestrazione della rete in fibra ottica. Questo approccio unico consente a OVHcloud di coprire, in modo indipendente, l'intero spettro di casi d'uso per i suoi 1.6 milioni di clienti in 140 paesi. OVHcloud ora offre ai clienti soluzioni di ultima generazione che combinano prestazioni elevate, prezzi prevedibili e piena sovranità dei dati per supportare la loro crescita illimitata.
Innocenzo Sansone – Tech & Dev Community Engagement
Sono un libero professionista che supporta le aziende nella creazione e crescita della propria Community. Il mio ambito è principalmente quello tecnologico, essendo uno sviluppatore e appassionato di tecnologia e avendo collaborato con le principali aziende italiane e multinazionali del settore.
Walter Riviera
AI Technical Specialist EMEA lead, Intel
Walter joined Intel in 2017 as an AI TSS (Technical Solution Specialist) covering EMEA and he's now playing an active role on most of the AI project engagements within the Data Centers business in Europe. He is responsible for increasing Technical and business awareness regarding the Intel AI Offer, enabling and provide technical support to end user customers, ISVs, OEMs, Partners in implementing HPC and/or Clouds solutions for AI based on Intel's products and technologies.
Before joining Intel Walter has collected research experiences working on adopting ML techniques to enhance images retrieval algorithms for robotic applications, conducting sensitive data analysis in a start-up environment and developing software for Text To Speech applications.
Vincenzo Lomonaco
Unipi
Vincenzo Lomonaco is a 30 years old Assistant Professor at the University of Pisa, Italy and Co-Founding President of ContinualAI, a non-profit research organization and the largest open community on Continual Learning for AI. Currently, He is also a Co-founder and Board Member of AI for People, Director of the ContinualAI Lab and a proud member of the European Lab for Learning and Intelligent Systems (ELLIS).
In Pisa, he works within the Pervasive AI Lab and the Computational Intelligence and Machine Learning Group, which is also part of the and the Confederation of Laboratories for Artificial Intelligence Research in Europe (CLAIRE). Previously, he was a Post-Doc @ University of Bologna (with: Davide Maltoni) where he also obtained his PhD in early 2019 with a dissertation titled "Continual Learning with Deep Architectures" (on a topic he's been working on for more than 7 years now) which was recognized as one of the top-5 AI dissertation of 2019 by the Italian Association for Artificial Intelligence. For more than 5 years he worked as a teaching assistant for the Machine Learning and Computer Architectures courses in the Department of Computer Science of Engineering (DISI) at UniBo. In the past Vincenzo have been a Visiting Research Scientist at AI Labs in 2020, at Numenta (with: Jeff Hawkins, Subutai Ahmad) in 2019, at ENSTA ParisTech (with: David Filliat) in 2018 and at Purdue University (with: Eugenio Culurciello) in 2017. Even before, he was a Machine Learning Software Engineer @ iDL in-line Devices and a Master Student @ UniBo.
His main research interest and passion is about Continual Learning in all its facets. In particular, he loves to study Continual Learning under three main lights: Neuroscience, Deep Learning and Practical Applications, all within an AI Sustainability developmental framework.