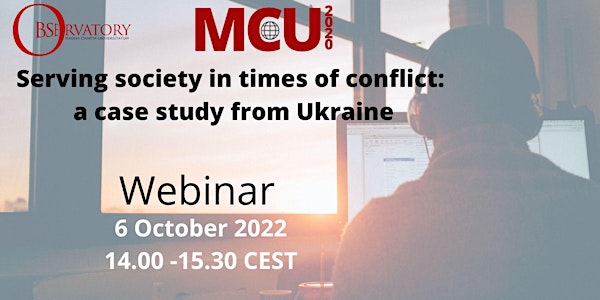 Serving society in times of conflict: a case study from Ukraine
Case study from Vasyl' Stus Donetsk National University
Informazioni sull'evento
Vasyl' Stus Donetsk National University is included in the Top-10 best classical higher education institutions of Ukraine and ranks first in the ranking of higher education institutions of the Central Ukraine. In 2014 the University was in the thick of the events that unfolded in the Donbas region following Russian military aggression. On 16 September 2014, the administrative premises of the University were seized by armed groups of the terrorist organisation "Donetsk People`s Republic". The university staff and students, rather than consider the possibility of cooperation with the invaders, created a public movement "Save Alma Mater!". As a result of negotiations with the Ministry of Education and Science of Ukraine, on 30 September 2014, Order № 1084 "On the organization of the educational process of the Donetsk National University of Ukraine in Vinnytsia" was issued and the university relocated.
In 2016 the University adopted the name of one of its most famous graduates, Vinnytsia and Donetsk citizen, poet, human rights activist, political prisoner, and Hero of Ukraine, Vasyl` Stus.
Vasyl` Stus Donetsk National University today is both an educational institution and an influential expert centre, a trusted partner for scientific and educational institutions, authorities, community and business, and also provides a good environment for development, life, study and work.
On 24th of February 2022 Russia started a full-scale war against Ukraine and the university faced new challenges.
Professor Roman Gryniuk was elected rector in November 2012 and has led the University since. In 2014 he found strength together with the team and moved the University from occupied Donetsk. He now facilitates the University's continuing operation in the conditions of war.
Against the background of the Magna Charta Universitatum 2020, David Lock, Secretary General of the Magna Charta Observatory talks to Professor Gryniuk about relocation and the importance of values, leadership, and international partners in enabling the University to continue to serve society. Participants will then have the opportunity to put questions and discuss issues with the rector.
The webinar is open to all leaders, staff and students in Higher Education, whether signatories of the Magna Charta or not.
This webinar is one of a series about the MCU 2020.
Closing date for bookings : 6 October 2022 at 9.00 CEST
There is no charge for this webinar
The webinar will be held on Zoom. The link will be sent the day of the webinar to the email used to register. Please check the correctness of your email on the form.