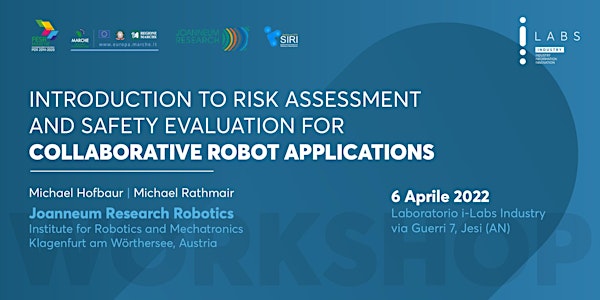 Risk assessment and safety evaluation for collaborative robot applications
Introduction to risk assessment and safety evaluation for collaborative robot applications
Quando e dove
Località
Laboratorio i-Labs Industry via Guerri 7 60035 Jesi Italy
Informazioni sull'evento
INTRODUCTION
The workshop includes short impulse lessons on safety, standardization and best practices for collaborative robotics, and practical work based on a specific robotic application available at the i-Labs Industry laboratory.
PROGRAM
09:00 - Registration
09:30 - Morning session
Collaborative robotics and associated safety requirements
Safety measurements
News from ISO and CEN standardisation committees
Guidelines and best practices besides the standards
Trends in in the field of collaborative robotics
14:00 - Afternoon session
Hands-on Robot-application testing
Discussion and networking event
MICHAEL HOFBAURProf. Hofbaur is director and chief scientist of JOANNEUM RESEARCH ROBOTICS and Professor for Modular Robotics at the University of Klagenfurt. His research focusses on innovative industrial and service robotics and human-robot interaction. Model-based and systems theoretic methodologies for the control of complex modular mechatronic systems, as well as AI based concepts for systems diagnosis, planning and intelligent control build the foundation of his scientific work in the field of modular robotics. Work on functional- and robot safety support his focus on building safety-rated control concepts for modern robot systems.
Prior to serving as a director for JOANNEUM RESEARCH ROBOTICS and becoming professor at the University of Klagenfurt he was professor for Automation and Control at the private University UMIT in Hall/Tyrol from 2009-2014. He earned his PhD from Graz University of Technology in the field of Electrical Engineering in 1999 and became associate professor for Automation and Complex Systems at Graz University of Technology in 2004. In 2000/2001 he was visiting associate professor at the Space Systems Laboratory and the AI Laboratory at M.I.T. in Cambridge USA. In addition to his scientific career path, he became a Chartered Engineer in Electrical Engineering in 2011 and worked as consultant for functional safety from 2012-2014.
MICHAEL RATHMAIR
Dr. Michael Rathmair studied electrical engineering and information technology at the TU Wien and graduated in 2018 with a doctorate degree from the Institute of Computer Technology. In addition, he was a research associate and integrated in various national and international research projects, as well as in university teaching. Since March 2019 he is working as a research assistant and technical test center manager of the ROBOTICS Evaluation Lab (REL) at the Institute for ROBOTICS of the JOANNEUM RESEARCH Forschungsgesellschaft mbH. His professional interests are primarily in the research and development of verification, analysis and testing processes for robot applications in the sense of a flexible cyber-physical system. In order to be able to optimally integrate these processes into modern day-to-day production, he is also actively involved in the national and international committees for the robot safety standard ISO 10218.