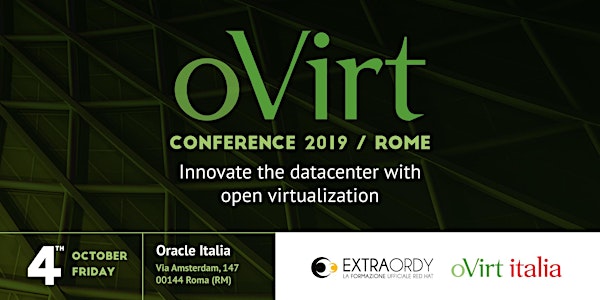 oVirt Conference 2019 - Innovate the datacenter with open virtualization
Località
Oracle Italia
147 Via Amsterdam
00144 Roma
Italy
Descrizione
Learn more about and influence the future of oVirt, the open source virtualization platform!
Event dedicated to privates and enterprises who wants to discover and deepen tematics related to virtualization and open source.
oVirt Conference Programme
h. 9.30
oVirt and its community
Introducing oVirt Project, its community and downstream products.
Sandro Bonazzola, Manager - Software Engineering - Red Hat
h. 10.00
oVirt installation made easy
This demo will show a Self-Hosted engine installation and an overview of most of the oVirt features.
Stefano Stagnaro, Red Hat Certified Instructor - EXTRAORDY
h. 11.00
Introducing Oracle Linux Virtualization Manager
In this session you will learn about Oracle Linux Virtualization Manager, a new oVirt-based enterprise management platform for KVM, and how it is enabling [developers?] to build open cloud infrastructure. You'll also learn how Oracle is continuing to enhance and extend the enterprise-class capabilities of Linux and other open source technologies; best practices to accelerate application deployments; and options for easily migrating to the cloud.
Simon Coter, Director of Product Management - Oracle
h. 12.00
Certificarsi RHCVA
Certificarsi Red Hat Certified Virtualization Administrator su RHV per domare oVirt.
Gaetano La Rosa, Red Hat Certified Instructor - EXTRAORDY
h. 12.30
vProtect - Best practices for oVirt Backup & Recovery
For oVirt and RHV, like for almost any other virtualization platform, it is possible to provide agent-less backup solution. Actually, there is even more than one way to do this. In a presentation we'll explain different ways to backup VMs in these environments using snapshot mechanism, presenting the best practices for each scenario.
Pawel Maczka, CTO and VP - Storware
***
Hot Buffet lunch
***
h. 14.30
New features in Red Hat Virtualization 4.3
We'll discover the new RHV 4.3 features.
Martin Tessun, Senior Product Manager - Technical - Red Hat
h. 15.30
SDN deployment with OVN, Neutron and Skydive
This talk will show how to utilize OpenStack Neutron OVN to provide software-defined networking to oVirt VMs including SNAT. Furthermore, you will learn how to use the nice UI of Skydive to analyze the networking topology, which might be based on Linux bridges or OVN, across multiple oVirt hosts.
Dominik Holler - Senior Software Engineer - Red Hat
h. 16.30
Disaster Recovery strategies for oVirt
RHV/oVirt environments can be backed up in several ways. In this presentation we'll show how Storware vProtect allows you to backup your environment in several different ways, protecting not only your VMs, but also applications and RHV/oVirt configuration itself. Presentation will also include the concept of DRoVirt – Open source project for Disaster Recovery & Replication for RHV/oVirt.
Marcin Kubacki, Chief Software Architect - Storware
h.17.30
oVirt Ansible Automation
This talk will show a way to use Ansible jobs to address a patching strategy for Oracle RDBMS hosted on oVirt VMs. Through the adoption of floating disks with already patched software, you will learn how to hot remove the old software disk and hot add the new one, automating also shutdown and start up of the database instance.
Gianluca Cecchi, Red Hat Certified Instructor - EXTRAORDY
Simone Tiraboschi, Principal Software Engineer - Red Hat