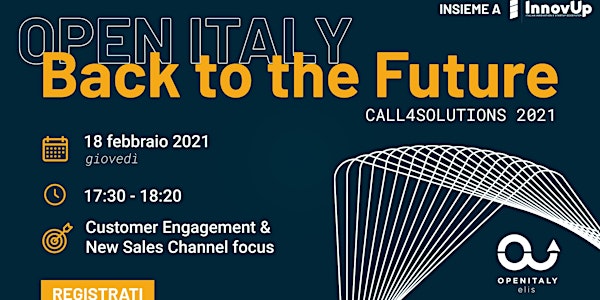 OPEN ITALY 2021_CALL 4 Solutions | Customer Engagement & New Sales focus
OPEN ITALY Back to The Future: parte la Call4Solutions con focus su Customer Engament & New Sales of Channel
Informazioni sull'evento
OPEN ITALY Back to The Future: parte la Call4Solutions del programma di Open & Collaborative Innovation di ELIS alla sua quinta edizione che offrirà opportunità di co-innovazione tra Corporate e Startup, PMI innovative, scaleup, spin-off universitari, R&D e centri di ricerca che stanno sviluppando una soluzione innovativa nel proprio settore grazie a un programma di open & collaborative innovation.
Una serie di brevi appuntamenti on line dove racconteremo la collaborazione con le Corporate, le startup e gli altri partner attraverso i progetti di co-innovation del 2020.
Focus di questo appuntamento: Customer Engagement & New Sales of Channel
La platea che ci ascolterà sarà composta da startup/scaleup/PMI interessate all'edizione di OPEN ITALY 2021.
Questo i link webex per accedere
password da inserire: innovation.
Agenda dell'evento:
ore 17:30 Introduzione OPEN ITALY: la nuova edizione, chi cerchiamo. Tappe, date e scadenze chiave - Luciano De Propris Head of Open Innovation Consorzio ELIS
5': Intro Partner moderatore: Antonio Perdichizzi - CEO Tree
Parola alla Community di OPEN ITALY:
10' :1° Progetto 2020: POSTE ITALIANE & INDIGO.AI: IA3 | video e discussione
10': 2° Progetto 2020: ACEA & OSC Innovation: Big City Lights | video e discussione
5': Spazio al Perimetro di Innovazione e dettagli sui Business Need dei prossimi anni
10': Q&A
5': Focus sui nuovi Progetti di OPEN ITALY
5': Call to Action ad iscriversi alla nuova edizione
ore 18:30 chiusura evento.
OPEN ITALY è la piattaforma di Co-innovazione B2B Corporate-Startup, ecosistema challenge driven, una palestra dove le Corporate possono allenarsi ad innovare insieme alle nuove imprese.
#OpenItalyELIS #OpeningOI2021