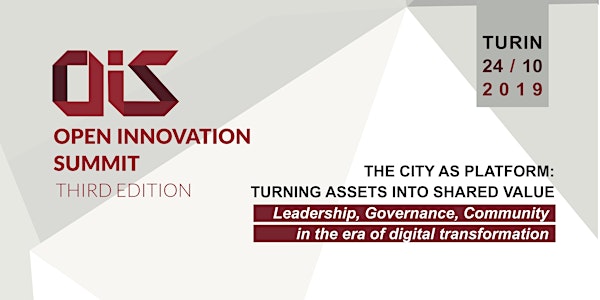 Open Innovation Summit 2019
Quando e dove
Località
Open Incet 17 Piazza Teresa Noce 10155 Torino Italy
Descrizione
During OIS 2019, the organisers would like to push the notion of the city as a platform to encompass its capacity, as a self-organising living system, to extract and share the value related to a wide range of assets, beyond data, that a city is made of. This range includes human capital, land, physical buildings, infrastructures, communities, cultural heritage, stocks and flows of goods and capital, and of course more intangible assets such as history, identity, brand, competences, and creativity.
In this view, a city is able to increase and share the value of its assets if it is capable of creating connections that turn into transactions both within its borders and with the outside world. This capacity is enabled by digital networks but fuelled by a sense of purpose.
In the process of building a more robust local ecosystem, the City of Turin welcomes the opportunity to exchange, at an international level, ideas and practices with other Cities and actors that can nurture a better understanding of the system conditions for economic development, in conjunction with the capacity to cater for the needs of those who are currently left behind.
The official language of the Summit is English language.
____________

AGENDA
8.30 – 9:00 REGISTRATION
9:00 – 9:30 WELCOME AND GREETINGS

Marco Pironti, Deputy Mayor of Innovation, Smart City, City of Turin

Tricia Hackett

, International Urban Cooperation (IUC), Sustainable Urban Development Advisor

Fabrizio Barbiero, Public Manager, City of Turin Innovation European Funds Department
9.30 – 11.00: SOCIAL INNOVATION AS A STRATEGIC ASSET FOR THE DEVELOPMENT OF URBAN REGENERATION PROGRAMMES
Chair Manuelita Mancini Director of Fondazione Giacomo Brodolini
Keynote Speeches
Edoardo

Reviglio

, CDP e HLTF on Social Infrastructure, "

Boosting Investment in Social Infrastructure in Europe"

Michael Braverman

, Housing Commissioner, Baltimore Department of Housing & Community Development

Christian

Iaione

,

Luiss

LabGov

, UIA,

Urbact

, Urban Agenda for the EU,

"Public Private Communities Partnership"
11.00 – 11.15: Coffee break
11.15 – 13.15: PUBLIC ASSETS AND COMMUNITY ENGAGEMENT AS LEVERAGES FOR URBAN REGENERATION
Chair: Fabio Sgaragli, Head of Innovation, Fondazione Giacomo Brodolini

Keynote Speeches
Colin

Tarbert

, Baltimore Development Corporation/ City of Baltimore, "

The use of TIF-Tax Increment Financing"

Ernst Valery,

SAA | EVI,

"Investing in communities"

Roberto

Mezzalama

, Golder Associates, IUR Association,

Nomisma

,

"GO‐IN Sustainable City: an evaluation model applied to Torino's social innovation policy"