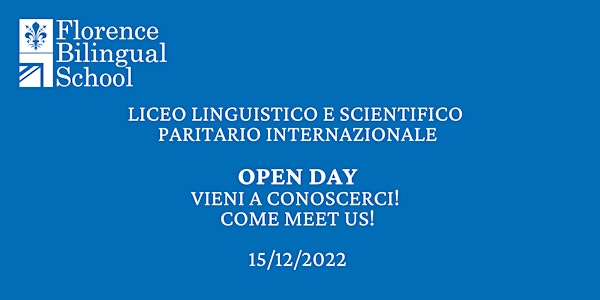 Open Day: Liceo Linguistico e Scientifico Internazionale - High-School
Scopri i docenti e le diverse opportunità di scambio internazionali. Learn about the international teachers and many exchange opportunities.
Informazioni sull'evento
La Florence Bilingual School raccoglie l'eredità della Kindergarten, la scuola bilingue di Firenze fondata nel 1973.
L'Open Day è la perfetta occasione per:
conoscere il nostro modello innovativo con biennio in comune scientifico-linguistico e bilingue
incontrare i docenti
conoscere il programma delle attività disegnato per gli studenti dai 14-18 anni
scoprire l'opportunità di immersive stay all'estero per una vera esperienza internazionale.
The Florence Bilingual School collects the legacy of the Kindergarten, the bilingual school of Florence founded in 1973.
The Open Day is the perfect opportunity to:
Learn about our innovative model with the first two years bilingual and in common scientific-linguistic
Meet the teachers
Learn about the programme of activities designed for students aged 14-18 with 75% of subjects taught in a foreign language, of which almost 40% in English
Discover the opportunity of Immersive Stay abroad for a true international experience.