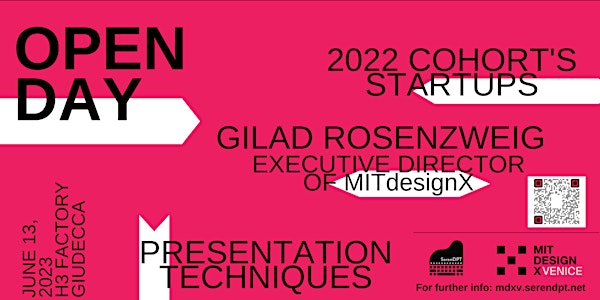 MITdesignX Venice: OPEN DAY
Open Day del programma MITdesignX Venice 2023 alla presenza di Gilad Rosenzweig, direttore esecutivo di MITdesignX
Data e ora
Inizia: mar 13 giu 2023 10:00 CEST
Località
SerenDPT Srl SB Giudecca 624/625 Campo San Cosmo 30133 Venezia Italy
Informazioni sull'evento
The event will be coordinated by Gilad Rosenzweig, executive director of MIT DesignX – the venture accelerator of the MIT School of Architecture and Planning. He will introduce the program, its history and successes from its foundation in Boston to the launch of its spin-off in Venice in 2022 in collaboration with SerenDPT.
Two startups born during the past edition of MITdesignX Venice will participate as testimonials of the program. Through a series of assignments and exercises Gilad Rosenzweig will help participants to better frame the problem they try to cope with and the context in which they would operate. He will give valuable insights on how to develop solutions to problems and will introduce some strategies to attract investors and get funding for your startup. At the end of the day, the participating teams will present their pitch.
The Open Day will help you design and sharpen your innovative ideas, while creating synergies among participants, with the ultimate goal of facilitating the formation of strong interdisciplinary teams and prepare them for submission into the MITdesignX Venice program. (Submissions are open until July 31, 2023)
The working Language is English.
MITdesignX Venice is looking for ideas dedicated to solving problems experienced in Venice as well as other coastal and historical cities. In 2023, the themes are:
Protection & Enhancement of Artistic-Cultural Heritage
Tourism of the future: fair accommodations and sustainable mobility
Water, Energy and Environment
Tools & services for cities and citizens (of all ages)
Info sull'organizzatore
SerenDPT sta tornando con la seconda edizione di MITdesignX Venice in collaborazione con il MIT di Boston!
MITdesignX Venice è un'iniziativa pluriennale frutto della collaborazione tra il prestigioso MIT di Boston e SerenDPT Società Benefit veneziana. Si tratta di un programma di accelerazione gratuito, condotto da docenti del MIT, a supporto di studenti, professionisti, sviluppatori e imprenditori impegnati nella creazione di nuove startup dedicate alla risoluzione di problemi del mondo reale. SerenDPT prevede incentivi per quelle startup che scelgono di avere sede a Venezia, così da contribuire al ripopolamento della città lagunare, creando posti di lavoro di alta qualità per persone di tutte le età e veneziani di ogni origine.
Per saperne di più, clicca qui!
Per restare sempre aggiornato, compila il form per l'espressione d'interesse e visita il sito ufficiale del MITdesignX Venice
SerenDPT is back with the second edition of MITdesignX Venice in partnership with MIT of Boston!
MITdesignX Venice is a multi-year collaboration between MIT (Boston) and SerenDPT, a venetian benefit company. It is a free accelerator program, conducted by MIT faculty, to support students, professionals, developers and entrepreneurs who are committed to creating sustainable startups that provide solutions to real-world problems. SerenDPT provides incentives for startups that choose to locate their headquarters in Venice, so they can contribute to repopulating the city and the lagoon, by creating high-quality jobs for young people of all ages and Venetians of any origin.
To learn more, click here!
To receive all the updates, fill the form of the expression of interest and visit the official website of MITdesignX Venice