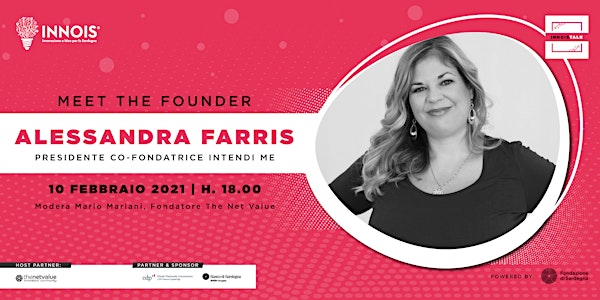 Meet the Founder Alessandra Farris, Presidente & Co-Fondatrice di IntendiMe
Mario è il fondatore dell'incubatore The Net Value - Innovators' community, punto di riferimento ormai decennale delle startup localizzate
Informazioni sull'evento
Nuovo appuntamento con il format di live talk di Innois, in collaborazione con The Net Value. In questo talk avremo ospite Alessandra Farris che nel 2015 ha fondato IntendiMe e che nel 2021 entrerà ufficialmente nel mercato con KitMe.
IntendiMe nasce dall'incontro tra Alessandra Farris, figlia di genitori sordi, e altri due giovani imprenditori - Giorgia Ambu e Antonio Pinese, a cui si è poi unito Leonardo Buffetti, ingegnere elettronico sordo - che con lei condividono la volontà di "far suonare un mondo così silenzioso". A​ dialogare con lei sarà presente Mario Mariani, founder di The Net Value.
L'appuntamento è fissato per mercoledì 10 febbraio 2021, a partire dalle ore 18:00.
Per maggiori informazioni visita la pagina dedicata: https://www.innois.it/portfolio/meet-the-founder-alessandra-farris-presidente-co-fondatrice-di-intendime/
SPEAKER: