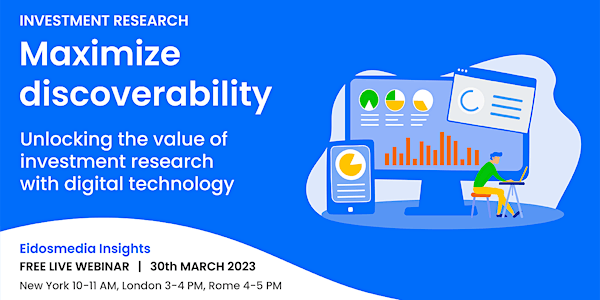 Maximize discoverability
Unlocking the value of investment research with digital technology.
Data e ora
gio 30 mar 2023 07:00 - 08:00 PDT
Informazioni sull'evento
The value you can add to your customers operations depends crucially on their being able to discover the elements they need in your research.
You can significantly increase this value by maximizing the discoverability of key insights and information.
Often this value is locked up in legacy formats like PDFs – difficult to parse for actionable insights, it risks being lost in the intense background noise of today's media flux.
The Alternative
By applying digital technologies - already amply proven in other contexts – you can unlock the value of your research and speed its application.
Some of our customers have achieved a ten-fold increase in the diffusion and consumption of their research using a digital approach.
In this Webinar we'll be looking at how this could work for your operation:
✅ Self-access web portals where customers can browse and interrogate your research assets.
✅ Interactive graphics and data visualizations.
✅ Digital formats, optimized for mobile consumption.
✅ AI-powered tagging to maximize findability of unstructured data.
✅ Personalized digital delivery to individuals and groups.
✅ Re-use and repurposing of key reporting elements.
⬇️ Webinar Info ⬇️
👨‍👨‍👧‍👦 Who should attend?
Chief Content Officers, Heads of Research, Analysts, and Digital Leads who are seeking to understand and resolve their content challenges.
🗓 When? 30th March 2023
🕙 New York 10-12 AM
🕒 London 3-5 PM
🕓 Rome 4-6 PM
❗️Numbers are limited - register to reserve your place ❗️
Info sull'organizzatore
At Eidosmedia we are specialists in digital transformation technology.
Our mission is to simplify the creation and delivery of content that is critical to our customers' success:
⭐ Financial research
⭐ High-value news media
⭐ Enterprise communications
⭐ Public-sector data and information