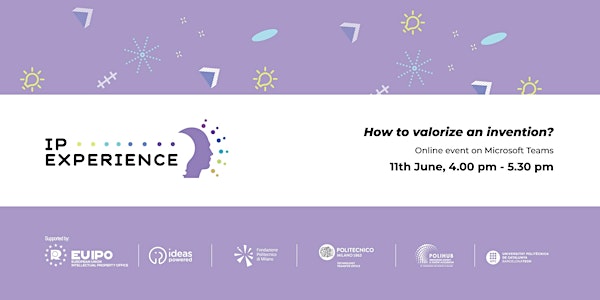 IP EXPERIENCE - How to valorize an invention?
Località
Microsoft Teams
Italy
Descrizione
IP EXPERIENCE- Intellectual Property Experiential Program is the new awareness project on the Intellectual Property and its value towards university students, young researchers, and entrepreneurs.
The project is carried out by Fondazione Politecnico di Milano, Politecnico di Milano – Technology Transfer Office, PoliHub Start-up District, and Universitat Politècnica de Catalunya and is financed by the European Union Intellectual Property Office-EUIPO (GR/001/19 Agreement Number 1320190007).


Intellectual Property valorization refers to the action of creating value from patented inventions by exploiting their latent economic potential through developing and commercialising the underlying technology.
Intellectual Property valorization doesn't deal with IP lawyers, although high professional experts are needed.
- It's about to protect your R&D results and capitalize on their potential economic value;
- It's part of the business strategy for a company to increase his competitiveness;
- It's about finding license revenue to fuel the next stage of your company's growth;
- It's about providing an opportunity to valorize your knowledge
IP exploitation is an important factor in strategic alliances and joint ventures, contributing significantly to implement the transfer of technology and foster entrepreneurship.
The debate will focus on the opportunities that the University can offer to students and researchers for the economic valorization of IP steamed by academic research.
Academic experts from Politecnico di Milano- Technology Transfer Office (TTO) and Universitat Politècnica de Catalunya – TTO will discuss the role of the University in Innovation Ecosystems and present their experiences on IP licensing.
A big company will share his experience in IP valorization.
The seminar will be performed ONLY on online streaming.
The event is free-of-charge, but registration is required. The day before the event all registered persons will receive a link to access the seminar. The event will be held in English.
For further information, visit the project website https://www.ip-experience.eu/
Agenda
4.00 pm Opening and IP Experience Project
Giacinto Schiavulli Project Manager, Polihub Innovation District & Startup Accelerator (moderator)
Filippo Silipigni - Politecnico di Milano, Ufficio di Trasferimento Tecnologico
4.10 pm From Research to Results Valorisation - Role of Universities in Innovation Ecosystems
Davide Moscatelli - Politecnico di Milano, Rector's Delegate for expoitation of research and Technology Transfer
speaker to be confirmed - Universitat Politecnica de Catalugna Technology Transfer Office (TTO)
4.25 pm Double interview on IP Licensing experiences: Technology Transfer Offices from Politecnico di Milano and Universitat Politecnica de Catalunya
Annalisa Balloi - Politecnico di Milano, TTO
speaker to be confirmed - Universitat Politecnica de Catalunya TTO
4.50 pm IP valorization in a big company
Waiting for confirmation
5.15 pm Debate, Questions & Answers
5.30 Conclusions