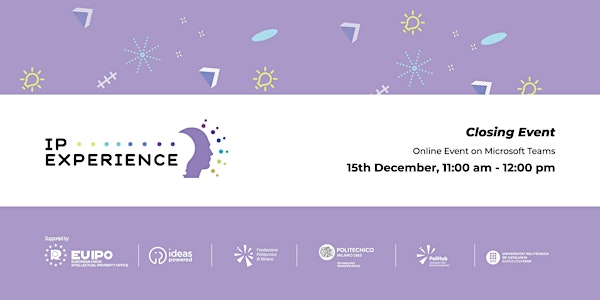 IP-Experience | Closing Event
Closing Event | Online on Microsoft Teams
Informazioni sull'evento
IP EXPERIENCE –Intellectual Property Experiential Program is a program of events for University and High School students on the strategic value of Intellectual Property
15th December | 11.00 am – 12.00 pm | online streaming free-of-charge
During 2020, the IP EXPERIENCE Project has run a cycle of seminars and workshops to point out the strategic value of Intellectual Property in the context of start-ups and new entrepreneurial activities, the protection of results from research activities, and collaborations between industry and research institutions.
Start-uppers, enterprises, and managers have shared their experiences on the impact of IP on business activities and attendees have been engaged in IP issues during workshops, simulating the setting of a preliminary IP strategy for creative solutions, with the help of patent and trademark attorneys.
The closing event of the Project targets university students, young researchers, entrepreneurs, and in general anyone interested in IP as a strategic asset to commercially exploit results spreading out from research and innovation activities.
During the event, IP system representatives will provide some insights on trends, initiatives, and guidelines that are running at the European Union level to spread IP awareness and finally to strengthen the innovation potential of the EU companies.
Results of the IP Experience Project will be presented and discussed.
The event will be performed ONLY on online streaming.
The event is free-of-charge, but registration on Eventbrite is required. The day before the event all registered persons will receive a link to access the seminar. The event will be held in English.
Agenda:
11.00 am Welcome and opening
Davide Moscatelli - Rector's Delegate for exploitation of research and Technology Transfer, Politecnico di Milano
11.05 am New generations and the role of IP, and importance to raise awareness of IP at university and tertiary education
Claire Castel - Head of the IP in the Digital World and Awareness Service at the Observatory, EUIPO
11.20 am The role of IP in the context of university-industry collaboration – preliminary title
Maurizio De Iusi - Responsible for Intellectual Property Office, Chamber of Commerce of Milan
11.30 am IP-Experience project results: achievements, Videos, Handbook, IP Game wepApp
Annalisa Balloi - Innovation Promoter, Politecnico di Milano, Technology Transfer Office
Gerard Margalef - IP & Licensing Manager, Universitat Politecnica de Catalugna, TTO
Giacinto Schiavulli - Project Manager, PoliHub Innovation District & Startup Accelerator
Filippo Silipigni - Project Manager, Fondazione Politecnico di Milano
11.45 am Discussion and Conclusions
The IP EXPERIENCE Project aims to sensitize and empower University and High School students on the strategic value that Intellectual Property Rights brings into their future business activities, through a program of workshops and events in Milan and Barcelona. The project is carried out by Fondazione Politecnico di Milano, Politecnico di Milano – Technology Transfer Office, PoliHub Start-up District, and Universitat Politècnica de Catalunya and is co-financed by the European Union Intellectual Property Office-EUIPO (GR/001/19 Agreement Number 1320190007). For further information visit www.ip-experience.eu.