Investing in Sustainable and Resilient Infrastructure
È terminata la vendita dei biglietti
Registrazioni terminate
Thank you for signing up to LTI@WEbinar in Finance. You can join the meeting on Zoom at this link: https://us02web.zoom.us/j/85495594715?pwd=UUdsTVlpMU1MMTJkbnhnWTNaSXdtQT09 Meeting ID: 854 9559 4715 Password: 265689
È terminata la vendita dei biglietti
Registrazioni terminate
Thank you for signing up to LTI@WEbinar in Finance. You can join the meeting on Zoom at this link: https://us02web.zoom.us/j/85495594715?pwd=UUdsTVlpMU1MMTJkbnhnWTNaSXdtQT09 Meeting ID: 854 9559 4715 Password: 265689
LTI@UniTO Webinars in Finance
Informazioni sull'evento
LTI@UniTO and Fondazione Collegio Carlo Alberto are pleased to invite you to the following event:
Investing in Sustainable and Resilient Infrastructure
Raffaele Della Croce, Senior Economist OECD, and Senior Fellow LTI@Unito - Fondazione Collegio Carlo Alberto
Abstract
Reaching the Paris Agreement and the Sustainable Development Goals (SDGs) will require large- scale private investment in low-emission infrastructure and reallocation of investment away from carbon-intensive assets. The COVID-19 pandemic has added to the urgency, showing how infrastructure, new or old, will also need to be made resilient to extreme hazards and climate impacts. Understanding the role of financial markets and the private sector in economic recovery packages over the medium/long term will be crucial in stimulating the economy and achieving long-term development goals.
Recent decades have seen a shift towards greater involvement of institutional investors and new technologies in the delivery and financing of infrastructure. At the same time, among investors there is increased recognition of ESG factors - such as climate change - as potential drivers of future portfolio risk and return affecting their ability to meet future obligations. This is having an impact on securities valuation models and asset allocation decisions reflected for example in an interest for active investing and ESG integration. In fact sustainable and resilient infrastructure investments play a crucial role in not just bridging the current investment gap, but in maximising the long-term returns and benefits from investments in infrastructure.
Overall objective of recent OECD work is to offer a new narrative on investing in infrastructure linking the sustainability and resilience characteristics of infrastructure to investor's long- term horizon and ESG approaches. In order to do so we look at current investors actions and approaches building on OECD investors data tacking stock of existing benchmarking initiatives. This will enable governments to gain a better understanding of the landscape of ESG in infrastructure and identify relevant policies to mobilise private sector capital and create sustainable infrastructure as an asset class (i.e. price in sustainability aspects in the infrastructure proposition) .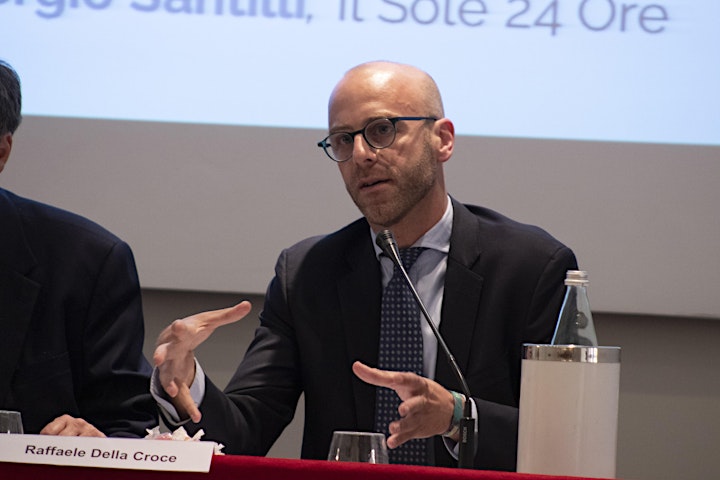 Raffaele Della Croce is a Senior Economist at the OECD, and Senior Fellow at LTI@Unito-Fondazione Collegio Carlo Alberto in Turin. At the OECD he is responsible for producing statistical research and analysis on sustainable finance, long term investment financing and connectivity infrastructure. He is the Lead Manager for the OECD project "Institutional Investors and Long-term Investment" in the Financial Affairs division of the OECD and also responsible for the Long Term Investment Network gathering major pension funds, insurance companies, and sovereign wealth funds across the world www.oecd.org/finance/lti.
Raffaele represented the OECD to G20, European Parliament, Financial Stability Board and UN meetings and is currently involved in a new project on the impact of innovation as blockchain on sustainable finance and the use of Big Data - public (i.e. satellite, drones, ground sensors) and private - with AI, IoT for infrastructure investment.Representing the OECD he took part to the 25 members FSB working group - chaired by Dutch Central Bank President Knot - mandated to analyze the impact of financial regulation on infrastructure financing and report to the G20 Leader's summit in November 2018 in Buenos Aires.
Before joining the OECD in 2010, he worked in the financial industry for eight years, mainly with Ernst & Young and Moody's Investors Services in London. As part of international teams advising governments or private consortia, he has been involved in the analysis, structuring and negotiation of the largest transactions in the utilities and infrastructure sectors in Europe, Middle East and Africa region.