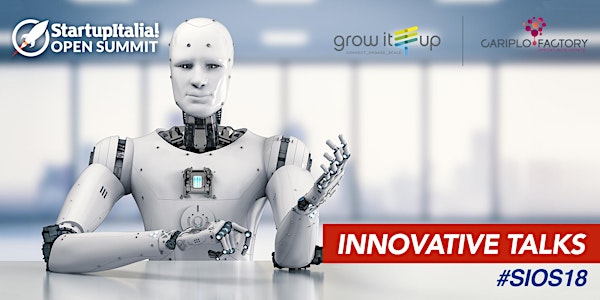 Quando e dove
Località
Palazzo del Ghiaccio 14 Via Giovanni Battista Piranesi Sala Piranesi 20137 Milano Italy
Descrizione
Morning Session
10:20 – 10:35 What will be the impact of AI on the global economy?
Fireside Chat with Mattia De Rosa, Direttore Cloud & Enterprise Microsoft Italy and Federico Stefanato, Founder and CEO WaterData.
What's the current state of artificial intelligence, especially as a mean to tackle major global challenges? Robot Intelligence becomes more impressive with each passing year, but when will AI actually surpass humans? And how can countries, companies and individuals prepare for the revolution? Training is the answer. The successful story of Ambizione Italia by Microsoft
10:40 -11:05 Manufacturing 4.0, Robotics and the Future of Jobs
With Manlio Ciralli, Chief Sales, Brand & Innovation Officer at Adecco, Luca Manuelli, Chief Digital Officer at Ansaldo Energia and Gianluca Segato, Founder & CEO Uniwhere, the lifelong learning startup. Moderates Enrico Noseda, Partner growITup – Cariplo Factory.
Corporates are changing, are increasingly digital and interconnected and the correct answer to have a complete and deep digital transformation is only one: people! A discussion about Change Management, Competences and Lifelong Learning with one of the major manufacturers in Italy, a sixty-year-old HR company and a young startup!
11:10 – 11:30 IoT: Future as a Service. What comes after smart homes and wearables as we know them?
With Lorenzo Bacca, Group Head of Business Development and Innovation at Assicurazioni Generali and Francesco Camarda, IoT Consumer Segment Manager at Vodafone. Moderates Enrico Noseda, Partner growITup - Cariplo Factory.
The internet of smarter things. Where can innovations like smart homes and smart accessories ultimately take us?
11:35 – 11:55 Digital Identity: In search of the Holy Grail?
With Daniele Citterio, Chief Technology Officer at Infocert and Marco Turchini, Group Head of Innovation at A2A. Moderates Anders Nilsson, Partner growITup - CariploFactory.
The growing pressure to protect data, and with it, a company's reputation, is a constant fear of any SaaS professional. Does the Holy Grail of a central solution for cybersecurity exist?
Blockchain is safe and secure by design, the weak spot is the human being. This brings us to look into different solutions, challenges and opportunities and the future of crypto custody.
12:00 – 12:20 How to attract and retain the best millennials in the age of technology.
Riccardo Galli, Co-Founder at Meritocracy and Elisa Fagotto, Head of Open Innovation at Openjobmetis, Moderates Enrico Noseda, partner growITup - Cariplo Factory.
Your company is only as strong as its people. But more importantly, how do you get those people? And how do you keep them from jumping ship? Our panelists are here to dissect why it has never been more crucial to look beyond the hiring stage.


12:25 – 12:45 10 Million Dollar Call by Indaco Venture!
With Antonella Beltrame, Partner at Indaco Venture and Alvise Bonivento, Partner at Indaco Venture. Moderates Anders Nilsson, Partner growITup - Cariplo Factory.
Finding the right Venture Capital for your startup is a lot like finding your perfect match. The recently launched Indaco VC Fund, will tell us what kind of startups they are looking for! Insights on what market, technology and size to apply to for the new 10 Million Call.
Afternoon Session
15:05 – 15:25 Empowering the quantum revolution
Fireside Chat with Giancarlo Sudano, Technical Solution Professional Azure at Microsoft Italy and Raffaele Mauro, Managing Director, Endeavor Italy and Author of the book "Quantum Computing".
In this session, we'll discuss what quantum computing is, how it differs from classic computers widely used today and why it has the potential to solve our most intractable problems. We will get a look at Microsoft's unique approach to tackling today's biggest problems using the world's most scalable quantum system.
15:30 – 15:50 How to incentivize female innovation in Italy
With Sofia Borri, General Manager at Piano C, Lisa di Sevo, Partner & Investor Manager at Prana Ventures & SheTech President. Moderates Francesca d'Amico, Marketing Manager Cariplo Factory.
We will explore the role of women in technology. Why are there so few female founders? How can we incentivize more women to achieve in tech? What do investor look for and are gender quotas good or bad?
15:55 – 16:15 Make Fashion Circular
With Anna Monticelli, Head of Circular Economy Desk at Intesa Sanpaolo Innovation and Anna Maria Rugarli, Senior director, Sustainability and responsibility EMEA, VF Corporation. Moderates Matteo Scarabelli, Head of Communications at Cariplo Factory.
The movement for more sustainable living is growing. Consumers increasingly want to stand up for what they believe in and seek out brands that share their values. Yet the reality of climate change, unsustainable consumption and inequality shows us that the nees for change is urgent. The challenge is to create a system where consumers buy, use then return an item to the manufacturer to make another product. Are we seeing a fundamental shift in how we approach the design of products or is this another novelty angle for big brands?
16:20 – 16:45 Darwin Effect: How Digital is transforming Consumer services.
With Stefano Bison, Head of Group Business Development at Assicurazioni Generali, Ambrogio Michetti, Strategic Development at Rai and Giacomo Silvestri, Group Digital Strategy, Innovation & Portfolio Management at Eni. Moderates Enrico Noseda, Partner growITup – Cariplo Factory.
The theory of evolution by natural selection is the process by which organisms change over time as a result of changes in the environment. As every organism, also businesses are expected to make dramatic changes to avoid disruption and compete in the new digital ecosystem.
16:50 – 17:10 How 5G will disrupt our way of communication?
With Dennis Lorenzin, Senior Vice President, Network Cognitive Services at Nokia. Moderates Enrico Noseda, Partner growITup – Cariplo Factory.
Driving Cars, Robotics, Enhanced Health, Logistics: 5G is an enabling tech that will unlock many apps and features to make everyone's lives easier.
17:15 – 17:35 The future of Talent & Innovation
With Roberto Magnifico, Board Member LVenture Group, Carlo Mango, CEO Cariplo Factory, Giuseppe Tomei, Head of Open Innovation LVenture Group, Enrico Noseda, Partner growITup. Moderates Matteo Scarabelli, Head of Communications Cariplo Factory.
The partnership between Cariplo Factory and Lventure Group opens a new window of dialogue with Made in Italy companies thanks to the possibility to structure end-to-end digital innovation programs to preside over all the phases of Innovation support processes: from the generation of innovative ideas, through incubation and acceleration paths, to the contamination and integration between startups and large companies, up to the support of new innovative projects in the go to market.
FAQ
Come posso contattare l'organizzatore per eventuali domande?
Tramite www.startupitaliaopensummit.eu oppure scrivendo a summit@startupitalia.eu
Quali sono le opzioni di trasporto/parcheggio per l'evento?
Il modo migliore è raggiungerci con il passante ferroviario e scendere alla stazione di Porta Vittoria (si prende con il biglietto della metropolitana da 1.5 Euro e parte dalla Stazione Garibaldi)
In taxi l'indirizzo esatto è: via Giovanni Battista Piranesi 10, 20137 Milano

In auto c'è un parcheggio gratuito in via Monte Ortigara oppure a pagamento in viale Corsica angolo via Terenzio 6 https://www.quickparking.it/Parking/parcheggio-milano-linate-aeroporto/ (Costo 2,4 Euro/ora - 12 Euro/Giorno)
Devo portare i biglietti stampati all'evento?
Non serve, è sufficiente avere la mail di conferma con il QR code sul tuo smartphone iPhone o Android
Posso aggiornare le mie informazioni di registrazione?
In ogni momento su www.eventbrite.it
La mia commissione di registrazione o il biglietto sono trasferibili? Il nome sul mio biglietto o sulla registrazione non corrisponde al nome della persona che parteciperà, è un problema?
Per ragioni di sicurezza l'ingresso è nominale, l'iscrizione è comunque gratuita su www.startupitaliaopensummit.eu
L'ingresso è gratuito, ma è necessario registrarsi su questa pagina.
Nota bene. Trattandosi di un evento a ingresso gratuito, il numero delle prenotazioni è maggiore rispetto a quello dei posti disponibili. La prenotazione non garantisce l'ingresso, fa fede l'ordine di arrivo, fino ad esaurimento posti.