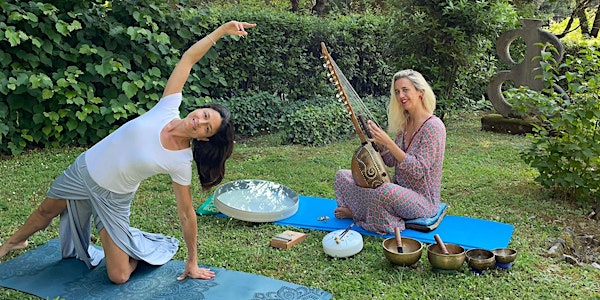 'IL FLUIRE' : tra YOGA & DANZA | 'Let it Flow' : Yoga and Dance practice
Barefoot in the green, in the heart of Florence, you will be guided in a meditative practice.
Quando e dove
Località
GIARDINO FAF Porta romana 50124 Firenze Italy
Politica di rimborso
Contatta l'organizzatore per richiedere un rimborso.
La commissione di Eventbrite non è rimborsabile.
Informazioni sull'evento
A piedi nudi nel verde, nel cuore di Firenze, sarete guidati in una pratica meditativa, volta all'ascolto di sé stessi, per poi fluire dolcemente da una posizione di Yoga all'altra al ritmo del proprio respiro. Durante tutta la pratica vi sarà il suono degli strumenti di Giulia volto ad assimilare i benefici della pratica appena compiuta e a introdurvi alla danza di Alessia.
L'esperienza è rivolta sia a coloro che praticano già Yoga che a coloro che ancora non lo fanno.
La musica dal vivo eseguita con strumenti etnici tra cui campane tibetane, kalimba, kora, disco armonico e ocean drum, seguirà il respiro aiutando alla meditazione ed al rilassamento.
La danza Butoh è una pratica di teatro-danza dove la meditazione aiuta a liberare il movimento senza giudizio in un fluire di movimenti improvvisati, seguendo il proprio sentire.
Giardino privato porta romana. I dettagli dell'indirizzo verranno mandati dopo la prenotazione. Prenotazione solo online.
---
Barefoot in the green, in the heart of Florence, you will be guided in a meditative practice, aimed at listening to yourself, and then gently flow from one Yoga position to another at the rhythm of your breath. At the end there will be a relaxation to the sound of Giulia's instrument aimed at assimilating the benefits of the practice just completed and to introduce you to Alessia's dance.
The experience is aimed at both those who already practice Yoga and those who still do not.
Live music performed with ethnic instruments including Tibetan bells, kalimba, kora, harmonic disco and ocean drum, will follow the breath helping to meditation and relaxation.
Butoh dance is a dance-theater practice where meditation helps to free movement without judgment in a flow of improvised movements, following one's own feelings.
Private garden around Porta Romana. Address details will be sent after booking. Online booking only.