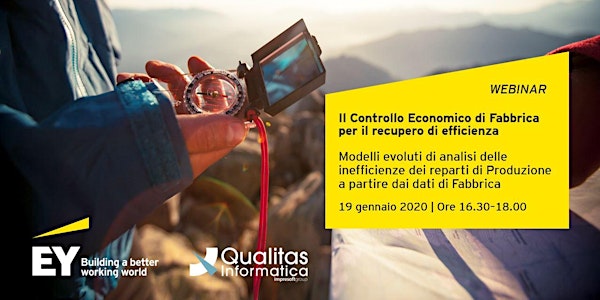 Il Controllo Economico di Fabbrica per il recupero di efficienza
Il Controllo Economico per il recupero di efficienza
Informazioni sull'evento
I dati e le informazioni presenti nei sistemi aziendali, consentono di identificare le aree di intervento per migliorare l'efficienza produttiva?
In questo webinar presenteremo il Modello del Losses Recovery System come strumento efficace di confronto fra l'Area Finance e l'Area Operation nell'analisi delle performance dei reparti produttivi e rappresenta la bussola per i progetti di ottimizzazione della fabbrica.
Seguirà l'illustrazione di come impostare una puntuale tracciabilità dei dati del processo produttivo nel sistema di fabbrica (MES) e come integrare, all'interno di un modello strutturato, queste informazioni con i dati della contabilità analitica-industriale per una corretta rilevazione del costo «reale» del prodotto e per l'identificazione delle inefficienze di produzione, con lo scopo di ridurre gli sprechi in ottica efficientamento e miglioramento continuo.
Agenda:
16.30 | Introduzione ai lavori, Diego Dominijanni, Executive Director EY SpA
16.45 | Losses Recovery System: l'analisi delle perdite per recuperare efficienza | Riccardo Giovanelli, Manager EY SpA
17.15 | Rilevare le informazioni legate al ciclo produttivo e monitorare in tempo reale la produzione: i sistemi MES | Fabrizio Bolli, Responsabile Centro Sud Italia Qualitas Informatica SpA
17.45 | Q&A
18.00 | Chiusura lavori
Evento gratuito riservato a Manager, Controller, CFO e Responsabili di Produzione di aziende industriali e produttive.
Per maggiori informazioni: faas@it.ey.com
Privacy
EY I Assurance I Tax I Transactions I Advisory
EY is a global leader in assurance, tax, transaction and advisory services. The insights and quality services we deliver help build trust and confidence in the capital markets and in economies the world over. We develop outstanding leaders who team to deliver on our promises to all of our stakeholders. In so doing, we play a critical role in building a better working world for our people, for our clients and for our communities.
EY refers to the global organization, and may refer to one or more, of the member firms of Ernst & Young Global Limited, each of which is a separate legal entity. Ernst & Young Global Limited, a UK company limited by guarantee, does not provide services to clients.
©2020 EY. All rights reserved. ED None.
ey.com
Information about how EY collects and uses personal data and a description of the rights individuals have under data protection legislation are available via ey.com/it_it/privacy-statement.