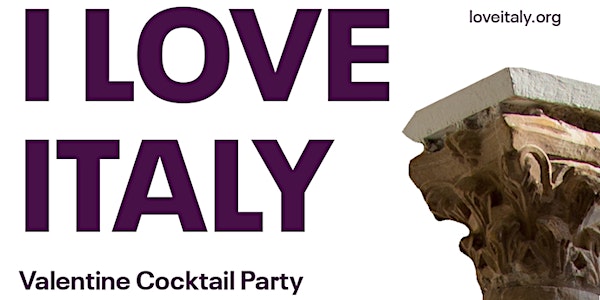 "I Love Italy" Valentine Cocktail Party
Join us for the "I Love Italy" Valentine Cocktail Party, February 12th at The Excelsior in Via Veneto 125.
Quando e dove
Località
Westin Excelsior Via Veneto 125 00187 Roma Italy
Informazioni sull'evento
"I LOVE ITALY" Valentine Cocktail Party
Celebrate with us a very special evening dedicated to our love for Italy, and spotlight the trendsetting efforts of LoveItaly, a visionary nonprofit crowd-funding platform that helps lovers of Italy from around the globe contribute to the restoration of Italian cultural heritage projects.
The Cocktail will feature live music, appetizers and "cash bar" at the venue's regular prices (wine/beer/juice €10; cocktail €14). There is no entry fee. Guests are simply requested, in advance of the evening, to contribute to LoveItaly's "Adopt a Column" crowdfunding campaign the amount of your choice to help restore the medieval monastery on the island of Capri, known to locals as "La Certosa". Click here or go to the following link for more details to join La Certosa crowdfunding project: https://loveitaly.org/product/certosa-di-capri.
La Certosa has survived seven centuries of pirates, wars, plagues and monastic suppression before embracing its new role today as the cultural heart of this world famous haven. But now the future of this 14th century monument is threatened and a restoration intervention on its columns is urgently needed.
Throughout the evening a large screen will follow the crowdfunding movement in real time, showing your impact advancing the needle toward the project goal that has a target deadline of March 2019.
Invite your family, colleagues, friends, and neighbors to be a part of history. Come out and celebrate with us starting 6pm on February 12th!
Become Part of Ancient History & Enlighten Future Generations.
___________________________________
This event is presented by the international community of Rome.
We thank our sponsors for contributing to the "Adopt a Column" crowdfunding campaign.
MAIN SPONSOR - Peter Janik will be featuring some pieces of the extraordinary jewelry he created throughout the evening. To see more, please visit his website at www.peterjanik.com.

A special thanks to our supporting Sponsors:
Cristiano Catapana the Master Pastry Chef; 150up for its insane ideas; Fedro and it's authentic tastes; Paolo and Noemia d'Amico DOC wines; Pighin DOC wines; The Westin Excelsior