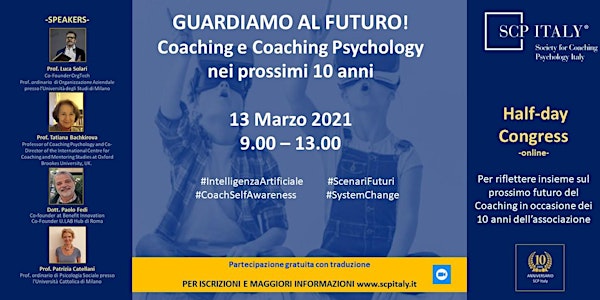 Half-Day Congress -10 anni SCP Italy - Online Event
Society for Coaching Psychology Italy organizza, per i 10 anni di attività dell'associazione, il primo Half-Day Congress il 13 marzo 2021
Informazioni sull'evento
Society for Coaching Psychology Italy organizza, in occasione dei dieci anni di attività dell'associazione, il primo HalfDay Congress il 13 marzo dalle 9,00 alle 13,00.
Insieme ai nostri ospiti, sarà l'occasione per celebrare i traguardi raggiunti, guardare alle sfide future dei prossimi 10 anni per il Coaching e la Coaching Psychology in Italia.
Il prossimo decennio sarà impegnativo e critico anche per la professione di coaching, e come coach dovremo avere la capacità di evolvere e trovare un modo per dare senso alle trasformazioni in atto a livello individuale, comunitario, organizzativo e di sistema Paese. Il Prof. Luca Solari - Co-Founder OrgTech, Prof. ordinario di Organizzazione Aziendale presso l'Università degli Studi di Milano - ci accompagnerà e ci sorprenderà nell'esplorazione di scenari e trend del prossimo futuro.
Ci siamo chiesti cosa possano fare il Coaching e la Coaching Psychology per contribuire a cambiare il mondo in meglio ed abbiamo individuato tre sfide che saranno affrontate da tre diversi relatori:
• Pratica consapevole, riflessiva e critica del coach – Prof. Tatiana Bachkirova, Professor of Coaching Psychology at Oxford Brookes University
• Cambiamento sistemico secondo la Theory U – Dott. Paolo Fedi Co-founder at Benefit Innovation / U.LAB Hub Italia
• Psicologia e intelligenza artificiale: in dialogo per costruire benessere - Prof. Patrizia Catellani, Università Cattolica Milano
Society for Coaching Psychology Italy organizes, on the occasion of the ten years of activity of the association, a Half-Day Congress on March 13 from 9.00 to 13.00 CET. Together with our guests, it will be an opportunity to celebrate the achievements, look at the future challenges of the next 10 years for Coaching and Coaching Psychology in Italy.
The next decade will also be challenging and critical for the coaching profession, and as a coach we will need to have the ability to evolve and find a way to make sense of the transformations taking place at the individual, community, organizational and national system level. Prof. Luca Solari - Co-Founder OrgTech, Full Professor of Business Organization at the University of Milan - will accompany and surprise us in the exploration of scenarios and trends for the near future. We asked ourselves what Coaching and Coaching Psychology can do to help change the world for the better and we have identified three challenges that will be addressed by three different speakers: •
Coach's conscious, reflective and critical practice - Prof. Tatiana Bachkirova, Professor of Coaching Psychology at Oxford Brookes University
Systemic change according to Theory U - Dr. Paolo Fedi Co-founder at Benefit Innovation / U.LAB Hub Italia
Psychology and artificial intelligence: in dialogue to build well-being - Prof. Patrizia Catellani, Catholic University of Milan
Do you request translation service from Italian to English? Contact us eventi@scpitaly.it