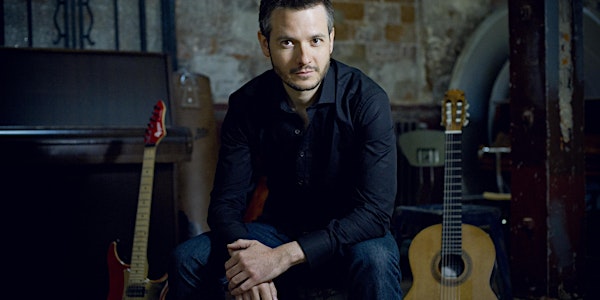 GUITAR FESTIVAL 2023 M° Pierre Bibault
GUITAR FESTIVAL 2023 M° Pierre Bibault
Di Conservatorio L. Boccherini
Data e ora
mar 30 mag 2023 21:00 - 23:00 CEST
Località
Auditorium del Suffragio Piazza del Suffragio 6 (Istituto Boccherini) 55100 Lucca Italy
Informazioni sull'evento
Pierre Bibault, chitarra
Programma
Zad Moultaka - Calvario (classical guitar and electronics)
Zad Moultaka - Ordo ab chao (classical guitar and electronics), dedicated to Pierre Bibault (classical guitar)
Steve Reich - Electric Guitar Phase (electric guitar + tape)
Steve Reich - Electric Counterpoint (electric guitar + tape)
Pierre Bibault is a French multifaceted classical and electric guitarist.
He has performed in more than 25 countries, and in many prestigious venues: Radio France, Philharmonie de Paris, Flagey in Brussels, Wigmore Hall in London.
As a soloist, he explores contemporary music: written, improvised, with electronics, or sounds transformed in real time, and handles his guitars as well as samplers, loopers and computers. He works closely with today's composers, many of whom have dedicated their guitar works to him. Among them: Zad Moultaka, Thierry Pécou, Jeffrey Holmes.
On October 1, 2021 (IndéSens Records) Pierre Bibault released the first recording of the complete works for electric guitar by the American minimalist composer Steve Reich (1936-) — who himself validated the program of the disc. Press and radio reserved a very warm welcome to the album: two shows on France Musique (French National Radio): "Guitare, guitares" and "Générations France Musique Live" invited Pierre Bibault for a concert and an interview; "Classical Guitar Magazine" edited a double page interview (November 2021); the Official Steve Reich Social Media Accounts edited a list "Essential Steve Reich", including Pierre Bibault's Nagoya Guitars version. On March 2022, the disc already reached more than 100.000 streams on the streaming platforms.
Since 2018, Pierre Bibault has been an additional musician (classical and electric guitars) for the Ensemble Intercontemporain, under the direction of Matthias Pintscher. With the Ensemble he was able to collaborate with many essential composers and composers of the International contemporary scene: Olga Neuwirth, Rebecca Saunders, James Dillon; and to explore a wide repertoire, ranging from psychedelic rock written by Frank Zappa, to music for the film Die Start ohne Juden by Olga Neuwirth published and broadcasted on French-German TV Arte, and performed at the Paris Philharmonie Hall and in Cincinnati (February 2022).
In 2019, the Ensemble invited him as a soloist for the French creation of the classical guitar concerto "Ode an Eine Äolsharfe" by Hans Werner Henze, at the Cité de la Musique, Philharmonie de Paris, conducted by Brad Lubman.
The Ensemble has invited him again for this season 2022-23, to perform H. Lachenmann, O. Neuwirth, R. Saunders at Paris Philharmonie, Radio France's Auditorium, Munich's Prinzregentheater and the Los Angeles' Walt Disney Concert Hall.
Pierre Bibault is a permanent member (Soloist) of Thierry Pécou's Ensemble Variances, which he joined in 2017. Since then, he has performed at the Radio France's Festival Présences, the Wigmore Hall in London, the Salle Cortot in Paris, the Opéra de Rouen, and for the concert series Jacaranda Music in Los Angeles.
A recording of works by François-Bernard Mâche, Thierry Pécou, Jeffrey Holmes was also released on the Ohuaya label in spring 2021.
Since 2020, he is also an additional musician (classical and electric guitars) for the Philharmonic Orchestra of Radio France, (works by George Benjamin, Fausto Romitelli, Gustav Mahler) and has performed under the direction of great conductors: Kent Nagano, Maxime Pascal, Matthias Pintscher.
Pierre Bibault is a Doctor of Arts, and the author of a thesis Gesture and a Gesture Extraction Process in Zad Moultaka's Music for Solo Guitar.s: A Performer's Perspective, VUB / KCB, 2021, 415 p.
He is the Artistic Director of the International Guitar Festival in Béarn since its creation in 2017, and has been a Project Advisor and Supervisor for the Paris Guitar Foundation from 2014 to 2018.
Pierre Bibault is a Professor at the Paris Conservatories, as well as a Teacher-Researcher at the Koninklijk Conservatorium Brussel. He frequently gives Masterclasses and Conferences in France and abroad.
Info sull'organizzatore
L'Istituto Superiore di Studi Musicali Luigi Boccherini è una della più antiche scuole musicali d'Italia. Fa parte del settore dell'Alta Formazione Artistica e Musicale, insieme ai Conservatori, alle Accademie di Belle Arti, all'Accademia Nazionale di Danza, all'Accademia Nazionale di Arte Drammatica e agli Istituti superiori per le industrie artistiche. L'Istituto inoltre organizza una propria stagione di concerti, cicli di seminari e conferenze.