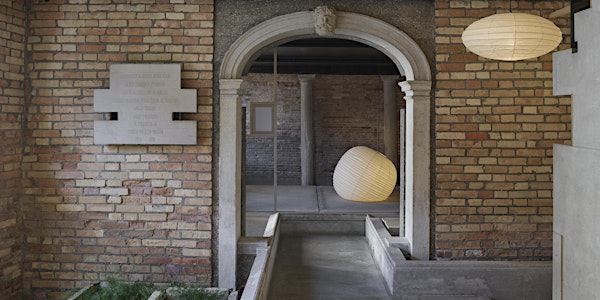 Guided tour at the Querini Stampalia Foundation with Isamu Noguchi's works
Guided tour at the exhibition hosted by the Querini Stampalia Foundation, with special focus on Isamu Noguchi's lamps
Quando e dove
Località
Fondazione Querini Stampalia 5252 Campo Santa Maria Formosa 30122 Venezia Italy
Politica di rimborso
Contatta l'organizzatore per richiedere un rimborso.
La commissione di Eventbrite non è rimborsabile.
Informazioni sull'evento
A guided tour will be held at the Querini Stampalia Foundation where you will visit the exhibition curated by Danh Vo and Chiara Bertola in which the works of Danh Vo, Park Seo-Bo and Isamu Noguchi are exhibited.
Isamu Noguchi (1904-1988), son of an American mother and a Japanese father, traveled the world, always based in New York, Japan, and Europe. Noguchi, in his search for a sculpture as a positive force, gradually developed a practice that included public spaces, gardens, lighting and scenography design, playgrounds and furniture, as well as autonomous sculptures. His first major commission was History Mexico (1936), a large relief for a public market in Mexico City. Noguchi founded the Isamu Noguchi Garden Museum (now The Noguchi Museum) in 1985 near his studio in Long Island, New York. In 1986 he represented the United States at the Venice Biennale, being the first artist to present a monographic exhibition at the USA Pavilion.
Isamu Noguchi's works are introduced in the context of the exhibition at the Querini Stampalia Foundation. The exhibition establishes a dialogue between past and present, placing art within distinct spaces and cultures. On display here is a wide selection of Akari paper lamps ("light" in Japanese), which, illuminating the surrounding environment, become the centre of perception themselves. These were conceived during the artist's trip to Hiroshima in 1951. They recall the Japanese chochin lanterns in the traditional shapes, resulting at the same time influenced by the aesthetics of American design. Their paper structure makes it possible to create a multitude of different shapes, demonstrating Noguchi's ability to approach and superimpose tradition and modernity.
The exhibition is located in a prestigious location. The Querini Stampalia Foundation takes its name from the homonymous noble Venetian family, who for generations lived in the palace and accumulated a large collection of works of art and objects of great prestige. The complex architectural structure of the building opens continuous windows over time. Each plan marks a different era in which the different moments of family and institution history followed one another.
The guided tour includes the purchase of the ticket of the Querini Stampalia Foundation which is included for VDW Card holders, for more information on the cards click on this link.