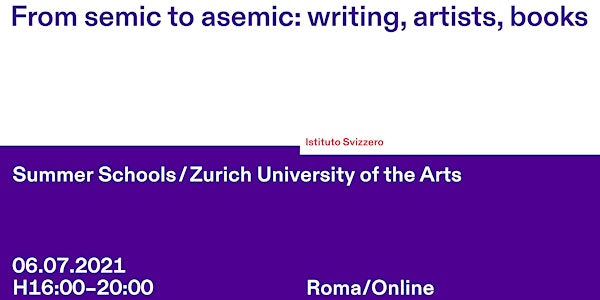 From semic to asemic: writing, artists, books
Summer School of the Zurich University of the Arts (ZHdK) hosted by Istituto Svizzero
Quando e dove
Località
Istituto Svizzero Via Liguria 20 00187 Roma Italy
Informazioni sull'evento
That something can be read is an implicit prerequisite in the exact moment a book is opened. Taking this as a starting point, the discussion From semic to asemic: writing, artists, books explores the approach of "non-readability" in lectures, performances and book presentations, focusing on the asemic handwriting (having no specific semantic content) in of the history of books and letters.
The event will also analyse the temporal and spatial dimensions of books (both their form and materiality), which have evolved from the scroll through the codex to the electronic book.
As part of Rome – Dimensions of the book, the Summer School at Istituto Svizzero brings together artists, poets, cultural studies researchers and philosophers to explore how artistic perception and production are intertwined with the multifaceted aspects of a book.
Speakers: Sara Davidovics, Marco Giovenale, Giulio Marzaioli and Nils Röller.
___________________________________________
Istituto Svizzero
Via Liguria 20, Rome
Due to the limited capacity of seats, early registration is recommended.
Please check our website to be updated on last minute changes:
https://www.istitutosvizzero.it/conferenza/from-semic-to-asemic-writing-artists-books/
___________________________________________
In compliance with the provisions for the prevention of the spread of COVID-19, please respect the behaviours below:
Mantain social distancing
Body temperature check
Use hand sanitizer
Face mask mandatory