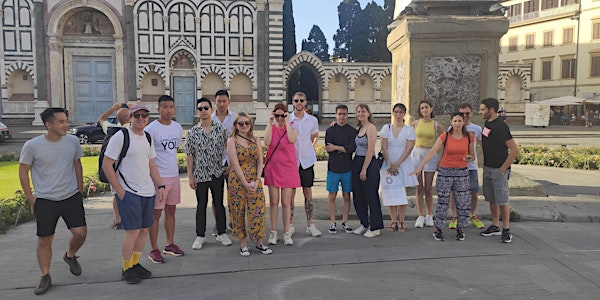 Free Walking Tour, stories and myths of a Golden City, English 16:30 pm
We will spend two hours together in which we will discover the secrets of the cradle of the Renaissance, Florence. Look for Blue Umbrella
Quando e dove
Località
Grand Hotel Minerva 16 Piazza di Santa Maria Novella 50123 Firenze Italy
Informazioni sull'evento
Free Tour in Florencia
Meeting point next to the obelisk in front of church's facade, our giude has a Blue Umbrella.
Visitamos esto lugares:
la Plaza Santa Maria Novella,
la Chiesa Santa Maria del Fiore,
la Cupula de Brunelleschi,
Piazza della Repubblica,
Orsanmichele Church
la Piazza Signoria
Michelangelo's David
Uffizi square
Old Bridge
Vasarian Corridor
Pitti Palace square
Florence Free Walking Tour
Meeting point in front of the obelisk in front of the facade of the Santa Maria Novella church, at 16:30pm am the Tour begins.
We are a tour guide group with the title of Florence guide, who loves to show the beauty and its curiosities, corners, history and much more!
Come and join us for an amazing experience that will take you back to the Florence of the past, its curiosities and its people. Duration 1:30/2:00 hours.
We will spend two hours together in which we will discover the secrets of the cradle of the Renaissance, Florence, our wonderful city. We will get to know the neighborhoods, the most significant monuments, the hidden corners and their peculiar stories. We will tell you anecdotes about the most important families and artists" Michelangelo, Leonard, Brunelleschi, etc" that made Florence a treasure full of Art and History.
Discover the customs, the typical food, the wine, the traditions, the shops and the typical products of Florence and Tuscany!
Our tour is the first Free Tour in Florence and the original since 2009, with an authorized tour guide.
Next to the obelisk in front of the facade
Tips will be very well accepted.
People are giving from 5 to10 euro tips