Informazioni sull'evento
Località
NOI Techpark Südtirol / Alto Adige
13 Via Alessandro Volta
39100 Bolzano
Italy
Descrizione

Interreg Italy-Austria FACEcamp project has offered a training course aimed at increasing the know-how of companies and freelance professionals operating in the field of complex technological building façades. The course aimed to transfer to freelance professionals and technical staff of construction companies, concepts and innovative methods in the sector of complex technological façades. The educational program had a complete structure regarding the covered topics, to provide innovative concepts, tools and methods, while stimulating the growth of local skills in the construction sector, increasingly subject to environmental and energy regulations.
The course was divided into 6 units, for a total of 15 days. It was characterized by a strong orientation to practice with the participation of experienced speakers, well-known for their skills in the field. All contents have been conceived and designed to address the main themes of concept, design, calculation, production, installation and maintenance of complex building facades. A study trip to Milan was organized to closely analyse significant examples of technological innovation in the field of façades.
Target group
Companies, architects, engineers, developers, owners, research centres.
Continuous Educational Units (CEUs)
Participation is valid for 5 CFP for architects, 4 CFP for periti industriali, 3 CFP for engineers.
Fee
Participation is free, upon registration. Places are limited.
Event in English language without translation.


---
Program
10:00 Registration
10:30 Introduction. IDM Alto Adige – Südtirol, Ecosystem Construction
Façade design and construction. The hot spots.
Angelo Lucchini, full professor at Politecnico of Milan, ABC Department
The future of façades. The industry's perspective.
Paolo Rigone, UNICMI, Technical Manager
FACE 3rd edition. Façade physics, technology, operations. The Project Works of the 3rd edition of the course:
11:00 The effect of dynamic selective shading devices and their potential in Northern Europe.
Jaap Aanhaanen, Cowi, responsible for facade projects
11:15 Adaptable window system.
Giovanni Toniato, Eurofinestra, product developer
11:30 Energy retrofitting of two building typologies: apartment block and individual house under conservation measures.
Jernej Markelj, AaJM+, freelance architect
11:45 Climate-adaptive building's façade: digital workflow for façade construction.
Angelo Figliola, Unicam SAAD, architect and researcher
12:00 BIM for glazed facades production and installation phase.
Audrius Lukosius, Fasadglas Bäcklin, façade design manager
12:15 Desktop study of timber unitised curtain wall fire performance for high rise tower application.
Alessandro Massarotto, C&S Facades, cladding bid manager
12:30 A façade integrated, heat recovery, nearly passive ventilation unit.
Zuzana Prochazkova, Pich Architects, architect & R+D manager
12:45 BIM, BEM and AVA for solar shading system.
Reinhard Trojer, HELLA, technical department
13:00 Lunch break
14:00 New Tech Façade (NTF).
Federico Dal Cin, Studio FDC, owner & building envelope specialist
14:15 A design proposal for a building integrated solar thermal vertical collector (BIST) working as a dynamic self-activated shading device.
Giulia Santoro, Arup Italia, façade engineer
14:30 Decision-making tool -optic (glazing) component for ME-climatic condition.
Aya Alayan, Navitas, façade engineer
14:45 One single model: structural glazing analysis for complex shape structures.
Marco Benedetti, Maffeis Engineering, façade and structural engineer
15:00 LCA Façade Configurator.
Matteo Giovanardi, Ai Group, freelance architect and energy modeler
15:15 Adaptive glaze façade for an office building in Rome.
Ornella Ferlito, Manens-Tifs, building physics specialist

15:30 Case study to create a company procedure of development and innovation on technical details.
Michele Realis Luc, Zanetti, project manager
15:45 Dependency of energy loads and operational costs of a typical office room on façade design choices.
Paolo Bonato, EURAC research, junior researcher
16:00 Jury final evaluation
16:30 Closing
Final certificates. Best Project Work special mention. Closing remarks.


---
funded by European Regional Development Fund and Interreg V-A Italy-Austria 2014-2020
finanziato dal Fondo europeo di sviluppo regionale e Interreg V-A Italia-Austria 2014-2020
gefördert durch den Europäischen Fonds für regionale Entwicklung und Interreg V-A Italien-Österreich 2014-2020
Data e ora
Località
NOI Techpark Südtirol / Alto Adige
13 Via Alessandro Volta
39100 Bolzano
Italy
Organizzatore di FACE3 | Final event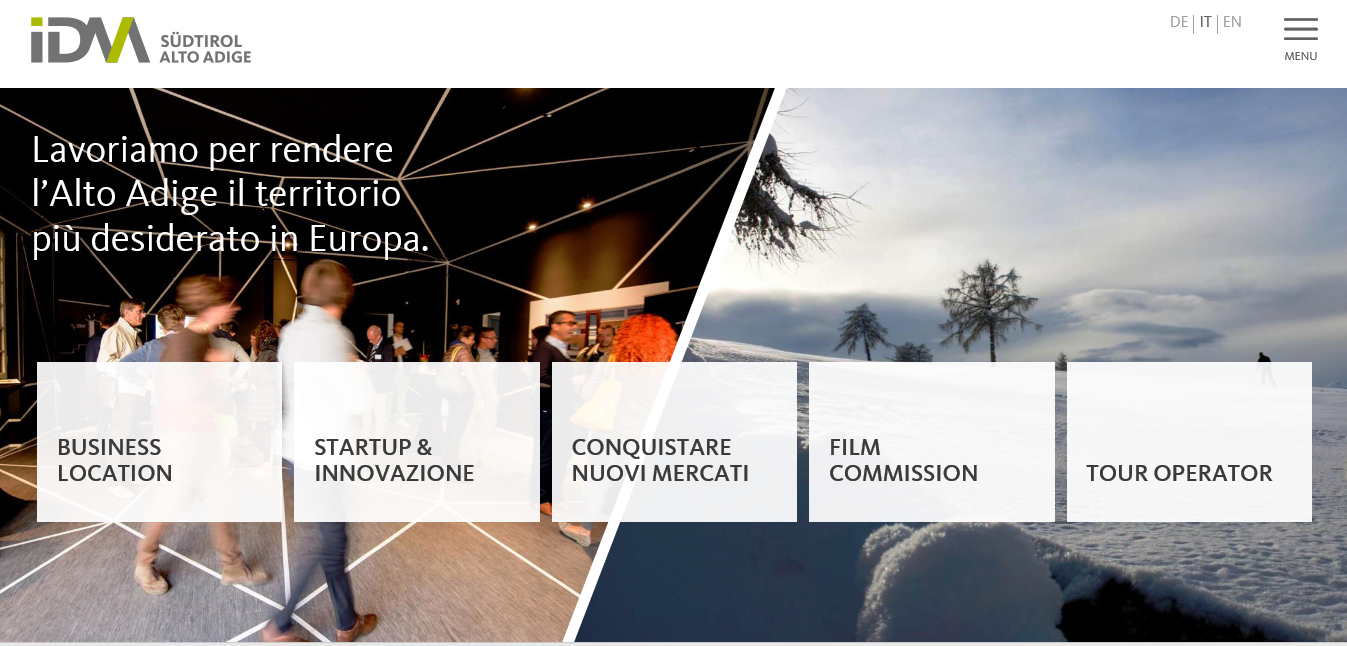 IDM sta per Innovation, Development e Marketing. Lavoriamo – su incarico della Provincia di Bolzano e della Camera di commercio di Bolzano – per il successo della vostra azienda.

Offriamo servizi nei settori export, innovazione, turismo e marketing agrario e supportiamo le vostre attività di business, per promuoverne o potenziarne la competitività.

Siamo coinvolti nella riflessione sullo sviluppo della location Alto Adige. È così che contribuiamo ad un obiettivo importante: rendere l'Alto Adige il territorio più desiderato in Europa, nel quale le generazioni future possano vivere e lavorare bene.