Informazioni sull'evento
Località
Skopje
jane Sandanski1A1000 Skopje
1000 Skopje
Macedonia, Republic of
Mail:semahalili9@gmail.com ; radmila.zivanovic@gmail.com RADMILA ZIVANOVIC 070/734-512S SEMA HALILI Cortex 070/409-730
Informazioni sull'evento
EYE MOVEMENT INTEGRATION approach to TRAUMA in Skopje
About EMI:
EMI is a neuro-therapeutic method for accessing and integrating traumatic memories and experiences. EMI is astonishingly rapid in its effects, freeing clients from the burden of unresolved memories of almost any form of trauma - from childhood abuse to car accidents; from rape to natural disasters to combat situations. Its effect is in just one to six treatment sessions.
Eye Movement Integration (EMI) is a powerful, brief and very respectful treatment modality for the resolution of trauma and various traumatic experiences. It was developed by Connirae and Steve Andreas of Colorado, USA in 1989. It is often confused with EMDR, but different in that it uses 22 instead of just 2 guided Slow Pursuit Eye Movements across the entire visual field of the client. EMI provides a client-oriented approach toward their traumatic experiences and it is adapted to a phenomenological field of trauma of the client.
The power of EMI lies in its ability to access the multisensory, somatic and affective dimensions of a traumatic memory. It taps into the brain's ability to heal itself by giving it another chance to process and integrate the fragmented traumatic memories.
About EMI Training:
During the EMI training the operational and technical concepts of psychotraumatology are provided, including the various information processing models, evidence based (Trauma Focused), CBT, Cognitive Process (CP) (Foa & Kozak et al).
Therapists immediately learn to make a clinical conceptualization of their clients' cases, according to the SARI Model (Philips, 1995), they learn and understand how traumatic and stressful events in the patient's life may have contributed to the discomfort theye present when they arrive in therapy. Strategies and resources are provided to immediately identify the targets and events that can connect to the history and symptomatology of their clients. Once the events have been identified, Big Trauma and small trauma, thanks to the structured interview, you will deepen how to make a work plan with EMI according to the therapeutic objectives.
At the end of each level, candidates will be able to immediately use the EMI methodology with their patients.
In order to become an EMI Practitioner you have to complete the following requirments:
The EMI training with Minnie Loubser has a total of 58 hours divided into:
● EMI Fundamental: 27- 29, March, 2020, Skopje
● EMI Advanced: 3-4 July, 2020
● Group Supervision- between the two workshops
● One Individual supervision- between the two workshops
● One Personal session- between the two workshops
Also, as addition to the programme will be provided EMI Master- 23-25 October, 2020
After having completed this training hours, the candidate becomes EMI Practitioner, get certified and becomes part of the EMI International community.
Certification:
This training is accredited by the Impact Academy, Quebec, Canada, also known as EMI International, and by its accredited trainner performing this training, Minnie Loubster. The certificate will be provided after completition of each training workshop.
Language of Delivery: The training programme will be delivered in English.
About the trainers:
Minnie Loubster- Clinical Psychologist, SE practicionaire and EMI certified trainner and supervisor
Minnie Loubser is a clinical psychologist in private practice in Stellenbosch, South Africa. She has a Masters degree in Research Psychology from the University of Stellenbosch (1980) and a Masters degree in Clinical Psychology (UZ,1993).
She lectured at the University of the Western Cape from 1983 - 1989. After relocating to KZN she went into private practice from 1994. She became a specialist on ADHD, internationally and nationally trained and presented at conferences and workshops on this topic.
She has extensive training in Ericksonian Hypnosis and Psychotherapy and Ego State Therapy, starting in 1995 at the Evolution of Psychotherapy Conference in the USA and continuing through the Milton H. Erickson Institute of South Africa (MEISA).
She has completed advanced training in Eye Movement Desensitization and Reprocessing (EMDR). Minnie has completed advanced training in TRE. Somatic Experiencing, Brain Working Recursive Therapy and is a trainer in Resource Therapy and EMI. She has international training in Impact Therapy and International advanced training in Eye Movement Integration (EMI) and Resource Therapy. Minnie is an accredited National and International EMI and Resource Therapy trainer.
Currently besides her practice at Virginia Way Office, North Wing Reception, Hamman Street in Stellenbosch, she also presents workshops for EMI Level 1, Level 2, Group Supervision in South Africa and Europe. This year we are hoping to start the workshops for the Resource Therapy as well.
More info on: https://emitherapy.co.za/about/ , https://www.emiitaly.com/minnie-loubser/
Elton Kazanxhi, psychologist, psycho-traumatologist, EMI certified practicionaire and supervisor
Elton Kazanxhi graduated Psychology at the University of Urbino "Carlo Bo" in 2005.
His training continued by attending integrated counseling seminars for several years, during which he became aware of therapeutic models such as Gestalt, Transaction Analysis, REBT, NLP and Bioenergetics.In 2011 he started his development in the field of Psychology and Traumatology and began organizing several trainings with professionals in Albania and Italy.
Thus, came the idea of establishing an Italian-Albanian association in Tirana with the aim of training the first therapists specializing in integrated psychotherapy. In 2015 he started a new chapter in the field of psycho-traumatology concluding his career as a Practitioner in EMDR (Desensitization and Reproduction of Eye Movement) and in 2016 he founded and headed the A.P.E.A psycho traumatology association in collaboration with other colleagues. (EMDR Albania Psycho Traumatology Association) Subsequently, his eclectic spirit led him to curiously approach other Psycho Traumatological techniques, encouraging him to travel between Switzerland and the Netherlands to study EMI (Eye Movement Integration Therapy). and becoming the EMI Representative for Italy and Assistant to International Coach Minnie Loubser.
In 2018, created EMI ITALY with the goal of training therapists in EMI Therapy. He currently works as a psychologist; psychotherapist registered in the Marche Regional Register (Italy) and continues to nurture his passion; "Eclectic Therapist". He have published several publications in the area of Psychotraumatology. He also collaborates with the Cortex Association of N. Macedonia in trainings in Psycho Traumatology and EMI.
More info on: www.emiitaly.com
Who can participate: Psychiatrists, clinical psychologists, psychologist and psychotherapists that have prior experience in working with trauma. This programe is not suitable to people in begining on psychotherapy training, or students of psychology with no experience in trauma work.
Registration to the programme: To reserve the place it is necessary to send mail to the both contact persons given below, after which you will get a mail for more details about the programme and about the the payment of cotisation for registration of the training. Completed registration is confirmed after the cotisation is payed.
The registration for this training group will be open until 02.02.2020, so we can organized the logistics of the group and of the trainners on time.
If you have more questions regarding the training programe please do not hestitate to ask as.
Contact persons for this programme in Skopje, NM:
Radmila Zivanovic- radmila.zivanovic@gmail.com
Sema Halili- Semahalili9@gmail.com
This training programe in North Macedonia is delivered by EMI Italy, through collaboration with Cortex Association. In Skopje this programe is also organisationally and logisticly supported by Psihoterapika, Association for Psychology and Psychotherapy.
More info regarding the programe find on: www.emiitaly.com and https://emitherapy.co.za/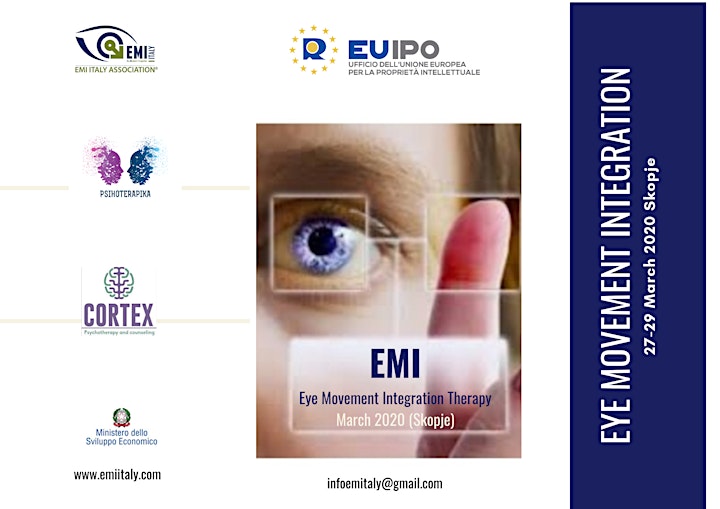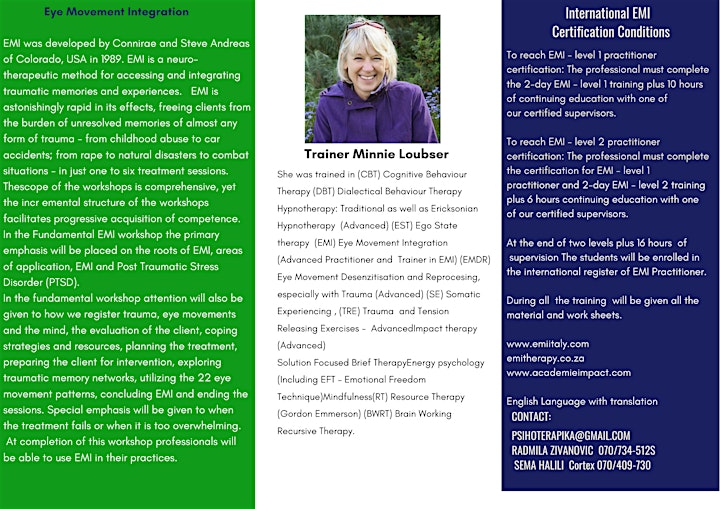 Books about EMI Therapy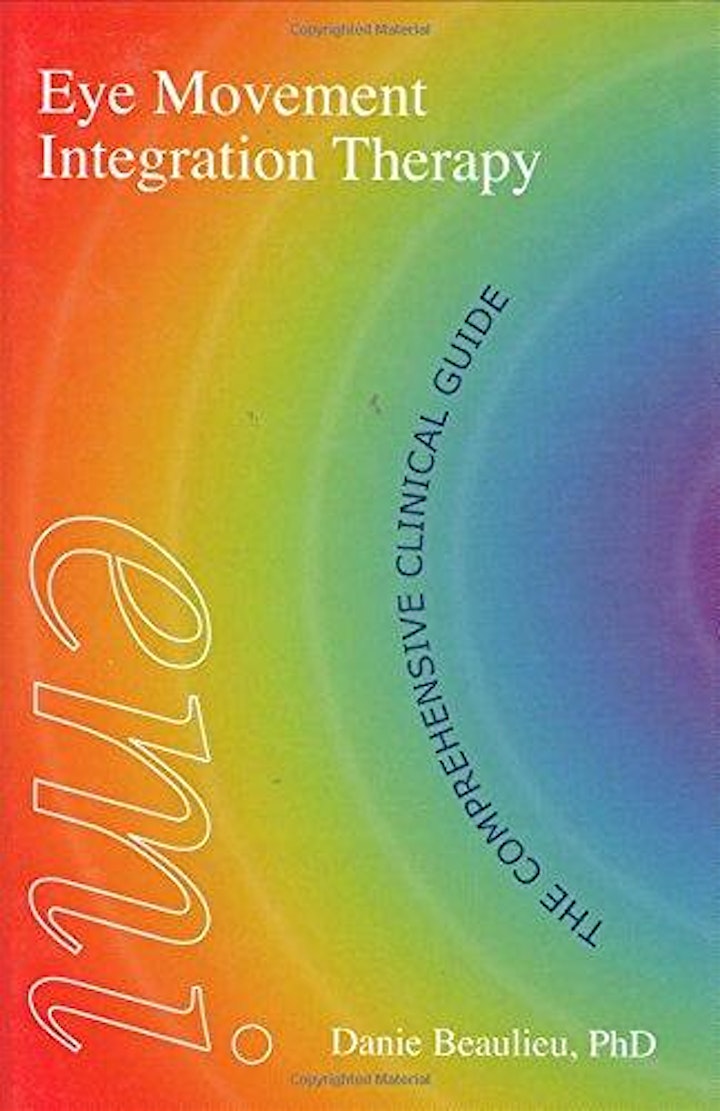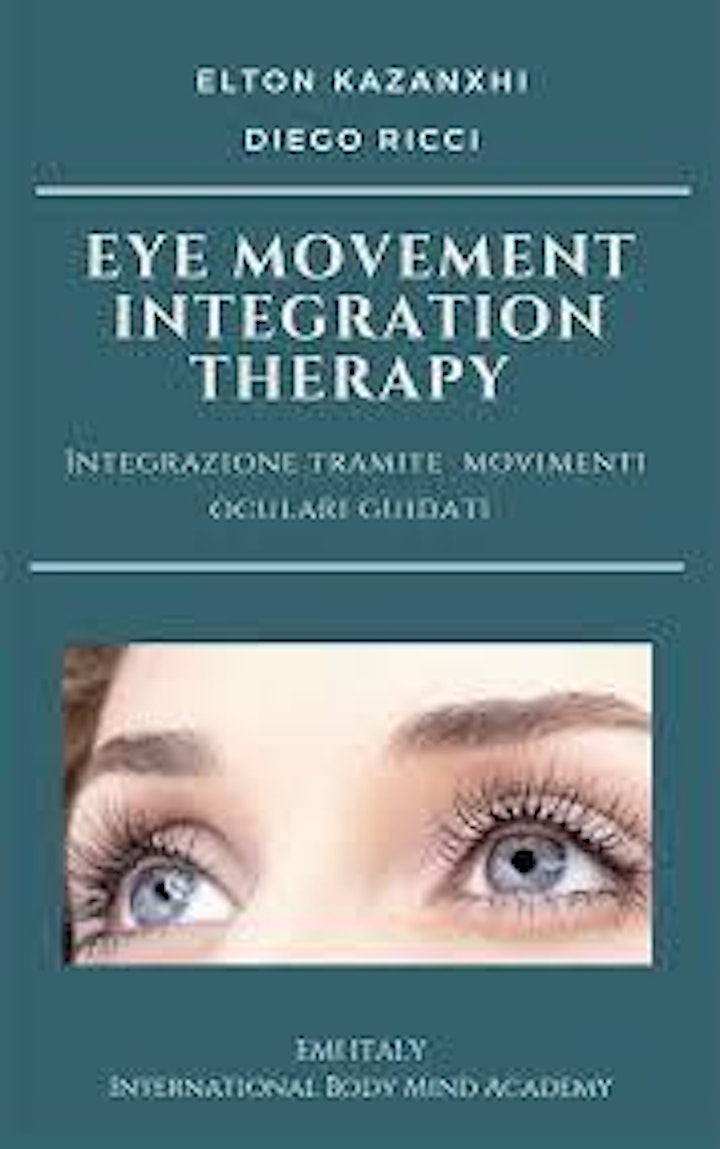 Program:
EYE MOVEMENT INTEGRATION:
FUNDAMENTALTRAINING PROGRAMME :
Day 1
8:00 – 8:30 Registration
8:30 – 9:30 Introduction to EMI
9:30 – 10:30 Origins and applications of EMI
10:30 - 10:45 Refreshments
10:45 – 11:45 What is trauma
11:45 – 13:00 How do we register Trauma
13:00 – 14:00 Lunch
14:00 – 15:30 Trauma in the brain, body and nervous system
15:30 – 15:45 Refreshments
15:45 – 16:45 EMI as a neurological approach to trauma
16:45 – 18:00 Eye Movements and the mind & practical groups
DAY 2
8:30 – 9:30 The Eye Movements in EMI
9:30 – 10:30 Supervised Practice Session
10:30 - 10:45 Refreshments
10:45 – 11:45 Special considerations in EMI
11:45 – 13:00 The evaluation of the client
13:00 – 14:00 Lunch
14:00 – 15:30 Exploring traumatic memory networks
15:30 – 15:45 Refreshments
15:45 – 16:00 Coping strategies and resources of the client
16:00 – 18:00 Supervised practice
DAY 3
8:30 – 9:30 Planning the treatment, Preparing the therapist and the client
9:30 - 10:30 Concluding EMI and ending the sessions
10:30 –10:45 Refreshments
10:45 – 12:00 Supervised Practice
12:00 – 13:00 Ethical, cultural and legal considerations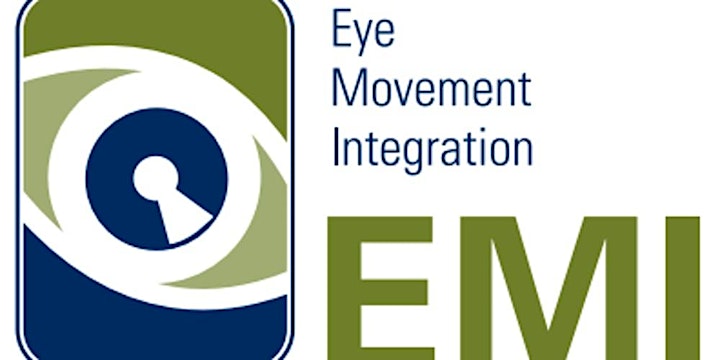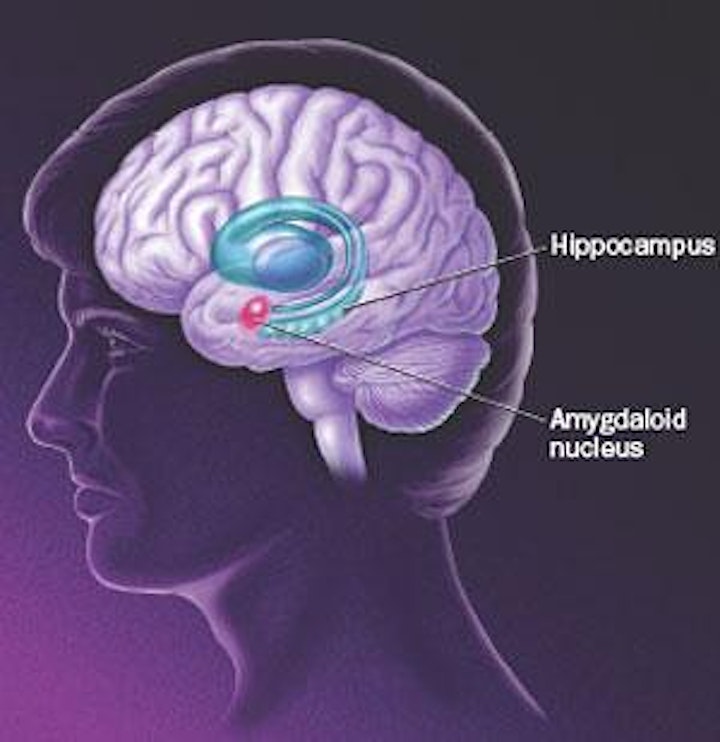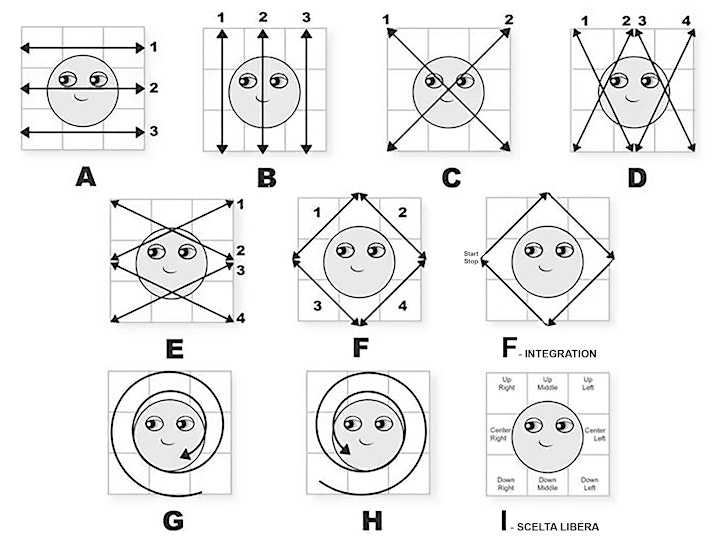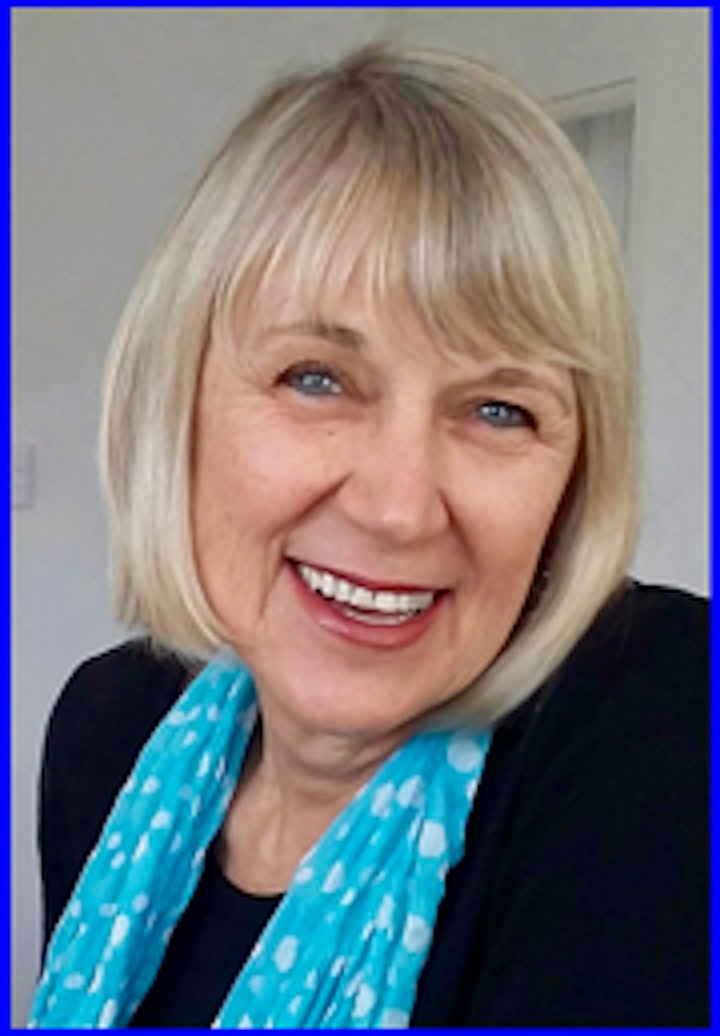 ABOUT MINNIE LOUBSER
I follow an integrated, holistic and multi-dimensional approach. My training and experience, together with specific psychotherapeutic approaches and modalities, are used in an integrated way to create a client-centred and unique therapeutic journey, together with each individual client.
Human beings are multi-dimensional and interconnected beings. Whatever affects one system within the human entity, will have an effect on every other system, whether physical, emotional, psychological, neurological or spiritual. Depending on the client's needs and experiences, any system may be used as the entry point to start the therapeutic healing journey. Therapy may start with the body based therapies, such as TRE or SE, or the mind based therapies such as CBT or DBT, or the unconscious or with dissociated states (Hypnotherapy or Ego-state therapy) or positive psychology and energy healing modalities such as EFT or Mindfulness, or more neurological, multi-modal modalities such as EMDR or EMI. Wherever the journey starts in therapy, the goal is for the individual to function optimally at all levels, as a healthier, more integrated and happier being.
Data e ora
Località
Skopje
jane Sandanski1A1000 Skopje
1000 Skopje
Macedonia, Republic of