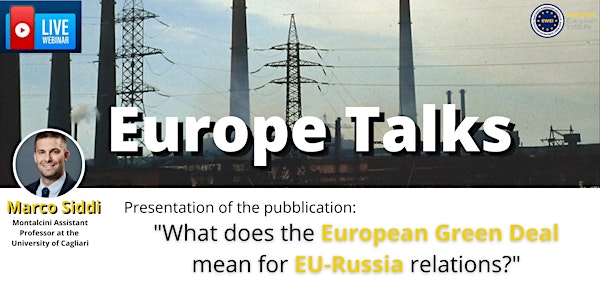 Europe Talks
The event will focus on the European Green Deal (EGD), in particular on the relelvant relations between EU and Russia.
Informazioni sull'evento
Speaker:
Prof. Marco Siddi
Montalcini Assistant Professor at the University of Cagliari
In response to the climate crisis, the European Green Deal – a set of policy initiatives by the European Commission – aims to make Europe climate neutral by 2050. The impending energy transition this will bring about poses a major challenge to hydrocarbon producers and trade relationships that rely disproportionately on the hydrocarbon economy. This is particularly relevant to EU-Russia relations, where the trade of fossil fuels has been a crucial economic and strategic aspect for decades.
In the current context of political crisis between Moscow and Brussels, which has been fuelled by the Ukraine conflict and broader geopolitical competition, energy trade is one of the few remaining areas of bilateral cooperation – and the most significant one from an economic standpoint. The prospective scaling down of this trade will likely alienate the EU and Russia from each other and potentially aggravate political tensions. At the same time, the climate emergency requires prompt action from large polluters such as the EU in order to avert an environmental catastrophe.
This begs the question of how EU-Russia energy relations can be preserved and reconciled with the pursuit of a climate-friendly agenda.
The main topics will be:
✔️ EU-Russia energy relations and the European Green Deal
✔️ Preserving and transforming EU-Russia energy relations
✔️️ Future areas of EU-Russia green cooperation