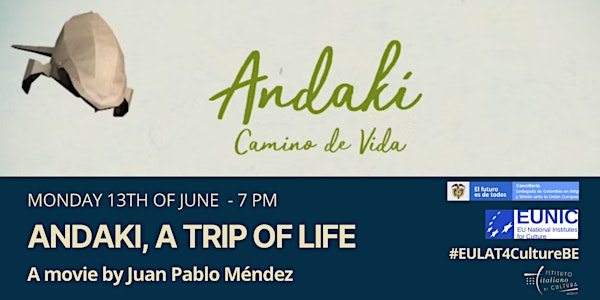 #EULAT4CultureBelgium. Movie Screening: "Andaki, a trip of life"
Part of: #EULAT4Culture Belgium, a cultural festival to strengthen EU-Latin American relations
Quando e dove
Località
Istituto Italiano di Cultura 38 Rue de Livourne 1000 Bruxelles Belgium
Informazioni sull'evento
EN
Screening organised in collaboration with the Embassy of Colombia in Belgium 
Andakí, a trip of life. Directed by Juan Pablo Méndez
Part of the Ministry of Science, Technology and Innovation's COLOMBIA BIO collection.
A group of scientists and several community members reflect upon life and death while exploring the great biodiversity of a place, which is marked by history, located between the Andes mountains and the Amazon.
This documentary finds the best scenario to reflect upon concepts such as life, death, and the path that moves between them. At the time of the Conquest of America, a group of indigenous people from the Andes sought to escape from Spanish troops and arrive at the Amazon, thus carving the path of what is now known as the Camino Andakí. Within this territory, which suffered the war against Peru, the bloody exploitations of the rubber as well as the horrors of the armed conflict, a group of scientists and several locals established a rich exchange of knowledge, which demonstrates that traditional knowledge and science are complementary.
Colombia 2017, VO ES, ST EN, 92'
About Colombia Bio
The Colombia Bio collection has a series of documentaries produced within the framework of scientific expeditions led by the Ministry of Science, Technology, and Innovation in several regions of Colombia, most of which suffered decades of armed conflict. Through relationship between art and science, Biodiversity becomes the backdrop for diverse artistic renditions produced by important Colombian film directors to tell the country's story.
Event organised in the framework of EULAT 4 Culture Belgium, a cultural festival with the aim of strengthening EU- Latin American relations and shared values through cooperative culture and creativity. The Festival was created by EUNIC Brussels as a response to the open call from EULAT 4 Culture, an innovative cultural diplomacy initiative by Ibero-American Cultural Network RIDCULT of the Ibero-American General Secretariat (SEGIB), the European External Action Service and the Spanish Presidency of EUNIC (European Union National Institutes for Culture). EULAT 4 Culture Belgium presents a wide range of contemporary cultural and artistic activities across disciplines, from 1 to 14 June 2022.
ES
Andakí: camino de vida
• Dirección: Juan Pablo Méndez
• Hace parte de la colección COLOMBIA BIO del Ministerio de Ciencia, Tecnología e Innovación.
• Duración: 1hora 32 minutos
• Fecha: 2017 (Colombia)
Andaki relata la travesía de un grupo de científicos y varios miembros de la comunidad que reflexionan sobre la vida y la muerte mientras exploran la gran biodiversidad de un lugar marcado por la historia, ubicado entre los Andes y el Amazonas.
Este documental es una ventana a reflexionar sobre conceptos como la vida, la muerte y el camino que se transita entre ambas. En la época de la Conquista, un grupo de indígenas buscaba llegar al Amazonas desde los Andes escapando de las tropas españolas, y así abrió lo que hoy se conoce como Camino Andakí. En este territorio, que vivió la guerra contra Perú, las sangrientas explotaciones del caucho y la quina y los horrores del conflicto armado, un grupo de científicos y varios lugareños establecen un rico intercambio de saberes que demuestra que la ciencia y el conocimiento tradicional son complementarios.
Sobre Colombia Bio
Colombia Bio es una serie de documentales producidos en el marco de las expediciones científicas lideradas por el Ministerio de Ciencia Tecnología e Innovación en regiones de Colombia, que en su mayoría sufrieron largas décadas de conflicto armado. La biodiversidad se convierte en el escenario de diversas miradas artísticas de importantes directores de cine colombiano para contar la historia del país a través de la relación entre el arte y la ciencia.