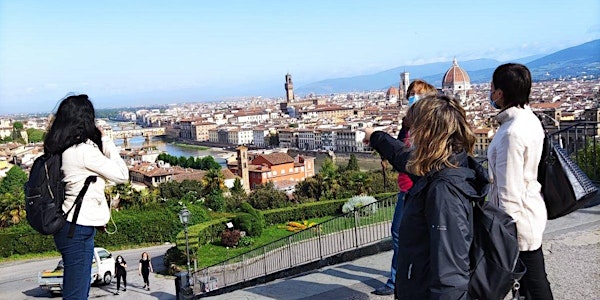 Date multiple
Early Morning Free Walking Tour of Florence
Would you like to see Florence when you wake up? This is the tour for you!
Data e ora
mer 5 mag 2021 07:30 - ven 29 set 2023 09:30 CEST
Località
Piazza Santa Maria Novella Piazza Santa Maria Novella 50123 Firenze Italy
Informazioni sull'evento
A pair of comfortable shoes, a water bottle and you will be ready for a dynamic and healthy walk of about two hours in the silence of the early morning with few people around and without traffic noise.We will start from the historic centre and through the southern hill we will reach one of the most beautiful viewpoints of the city: Piazzale Michelangelo which, with a bronze replic of David in the centre, dominates Florence.An unmissable opportunity to admire Florence and its monuments from above: the Ponte Vecchio and the Uffizi Museum, the Duomo and its Dome, Piazza della Signoria and many other places for which we will not fail to tell you the history and a little of anecdotes.The photos you take with the light and colours that only early morning can give you will remain as a unique testimony of your trip to Florence!Through the Oltrarno, the most characteristic district of Florence, where the real Florentines live, we will return to the city centre and everyone can continue the day at their leisure.Maybe you can participate in our 10.30 walking tour dedicated to the beauties of the historic centre or you can choose to follow the guide for an excellent cappuccino or coffee in a place that serves a typical Italian breakfast."Il mattino ha l'oro in bocca" says an Italian proverb (that means: "Morning has gold in its mouth"). This experience will make you touch it with your hand! Take this tour for an unforgettable experience! We are waiting for you!
Info sull'organizzatore
We have three free walking tour per day, every day.
• During the early morning tour we will reach Piazzale Michengelo to admire Florence from above.
• At mid-morning we will walk through the historical center visiting the Duomo, Piazza della Signoria, Ponte Vecchio and all the historical places from the Renaissance and Middle Age, with the histories of artists and families who made Florence great.
• By our tour at Sunset we will visit the Oltrarno, the other part of the city on the other side of the Arno river where you can find the best workshops of artisans, goldsmiths and restaurateurs that made the area the most authentic and cool part of Florence.