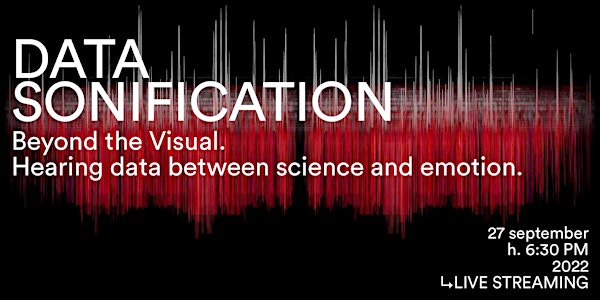 Data Sonification | Beyond the Visual - Live Streaming
For the first time in Milan, the Boston Data Sonification Archive is presented, the world's first archive of in-house work
Quando e dove
Località
MEET Digital Culture Center Viale Vittorio Veneto 2 20124 Milano Italy
Informazioni sull'evento
In collaboration with the Center for Design at Northeastern University (Boston, MA), Beyond the Visual. Hearing Data Between Science and Emotion is the first conference on Data Sonification, the representation of data through sound. A multi-voice discussion curated by Paolo Ciuccarelli (Founding Director, Center for Design) and Sara Lenzi (Critical Alarms Lab, TU Delft) on Data Sonification, the new frontier for pushing the boundaries of the visual and creating real "data experiences."

We are hosting prestigious speakers at MEET who will participate in a panel discussion and present a sonification use project: Anita Zanella, National Institute of Astrophysics (Italy), Rafael Bresciani, Sound Artist (Italy), Dan Lockton, Department of Industrial Design, Eindhoven University of Technology (TU/e – Netherlands), Michele Mauri, DensityDesign Research Lab, Politecnico di Milano (Italy), Miriam Quick + Duncan Geere, Loudnumbers (UK).

The meeting will conclude with the Live performance The dry Stone (no Sound of Water) a sound work lasting about 40 minutes derived from the data of the drought that hit northern Italy this summer made by Chelidon Frame and rendered visually by Gaab of Milan that represents the complex impact of drought on the Po River and its fate. Thanks to Data Sonification, the whole ominous evolution from 2021 of the climate change that is afflicting the great Italian river emerges.
Live streaming will be broadcast on the MEET homepage (meetcenter.it). There you will also find a series of polls. Via Slido the moderation will be live!