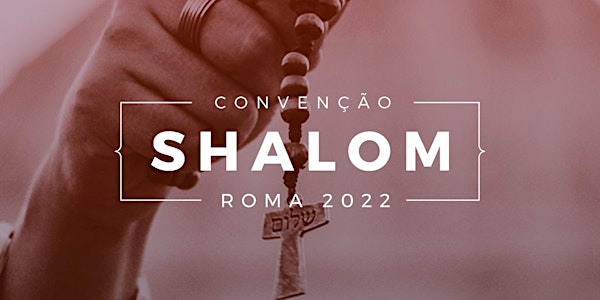 Convenção Shalom 40 anos / Shalom Convention 40 years
Convenção Shalom 40 anos / Shalom Convention 40 years
Quando e dove
Località
Comunita Cattolica Shalom Via Benedetto XIV 5 00165 Roma Italy
Politica di rimborso
Niente rimborsi
Informazioni sull'evento
PT - Vamos a Roma!
Neste ano celebramos um marco da nossa história, completamos 40 anos de fundação da Comunidade Shalom. Uma história marcada pelos feitos de Deus em nossas vidas, que nos enchem de gratidão e inflamam o nosso coração de Amor Esponsal ao nosso Senhor Jesus Cristo.
Para bem celebrar esse marco, entre os dias 23 e 28 de setembro, realizaremos a tradicional Convenção Shalom: uma semana de oração, formação, confraternização, celebrações e encontro com o Santo Padre, Papa Francisco.
EN - Let´s go to Rome!
On this year we celebrate a milestone in our history, we turn 40 years since the foundation of the Shalom Catholic Community. A story marked by God's hallmarks in our lives, that fill us with gratefulness and burst our hearts with Spousal Love for our Lord Jesus Christ.
And to celebrate this milestone, between September 23rd to 28th, we will live the traditional Shalom Convention: a week of praying, catechesis, fellowship, commemorations and an special encounter with the Holy Father, Pope Francis.
FR - Allons à Rome !
Cette année, nous célébrons une étape importante de notre histoire, les 40 ans de fondation de la Communauté Shalom. Une histoire marquée par les actions de Dieu dans nos vies, qui nous remplissent de gratitude et enflamment notre cœur d'Amour Sponsal envers notre Seigneur Jésus-Christ.
Pour célébrer cette étape importante, du 23 au 28 septembre, nous réaliserons la Convention Shalom : une semaine de prière, de formation, de partage, de découverte de la Ville de Rome, et aussi des célébrations dans les principales Basiliques de la VIlle Éternelle et une audience privée avec le Saint-Père, le Pape François.