CI-LAM China Italy Joint Lab on Advanced Manufacturing - Opening ceremony
Opening ceremony of CI-LAM Academy 2020.
Informazioni sull'evento
CI-LAM - Academy
China Italy Joint Lab on Advanced Manufacturing - 2020 Program
The power and future of Tech X
Building the China-Italy innovation ecosystem and spurring the next generation talents for advanced manufacturing
The Joint Lab on Advanced Manufacturing (CI-LAM) was established in 2017 as an agreement between University of Bergamo, University of Naples, Tsinghua University, Campania NewSteel and the Chinese Cluster for Industrial Automation.
Mission of CI-LAM is to promote and enhance the results of a joint cutting-edge research and development within the field of Smart Manufacturing. The CI-LAM pools the resources of enterprises and research institutions to carry out application-oriented joint R&D and product innovation, helping manufacturing stakeholders in both countries – SMEs and start-ups in particular – adopt the new industrial paradigms and technologies.
The Opening Ceremony is the starting event of the Innovation Webinars for Professionals, Enterprises and Professors. It aims at promoting an effective innovation ecosystem exchange between China and Italy on Advanced Manufacturing through an online training, innovation and matchmaking activities.
Here below the agenda of the Opening Ceremony: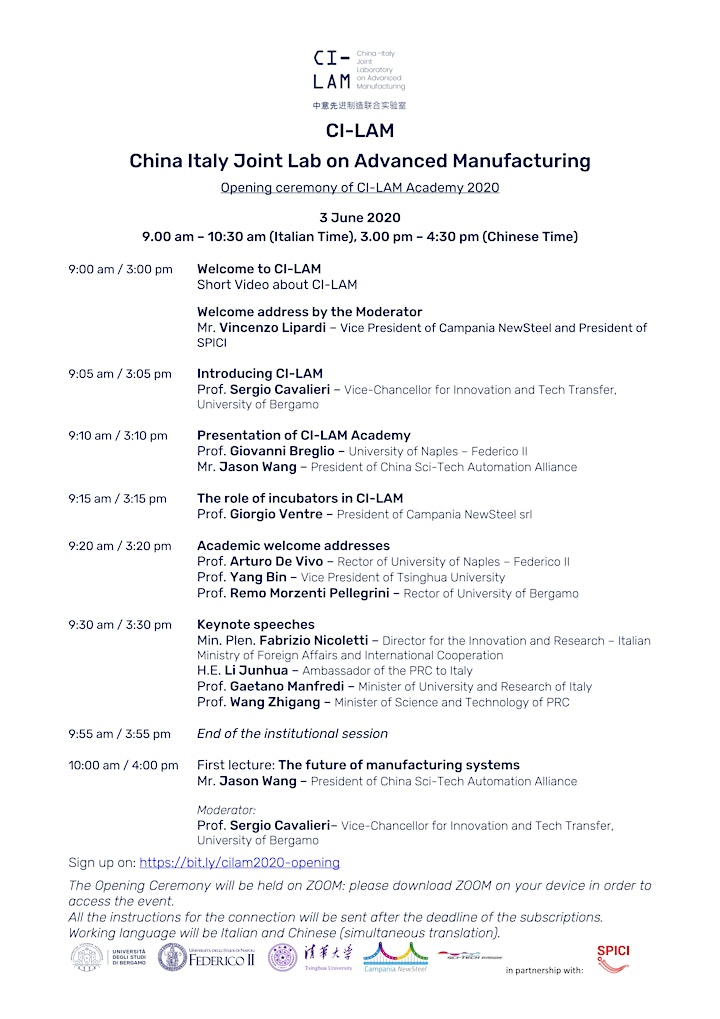 Organizzatore di CI-LAM China Italy Joint Lab on Advanced Manufacturing - Opening ceremony