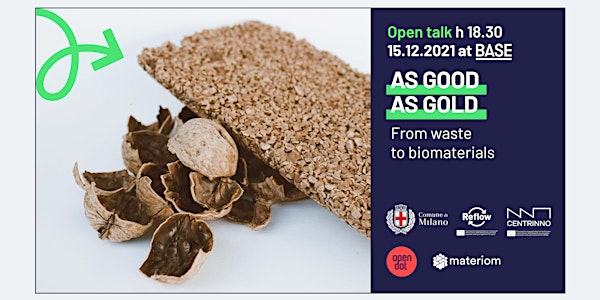 As good as gold - From waste to biomaterials
How could we use organic waste that is otherwise not suitable for consumption? How could we possibly replace petrochemical plastics?
Quando e dove
Località
BASE Milano 34 Via Bergognone 20144 Milano Italy
Informazioni sull'evento
The "As good as gold" Open Talk will raise awareness on the potential of organic waste as a resource to make biomaterials. For that, the key components and processes behind biomaterials will be discussed, as well as potential applications and case studies within the fashion and design industry.
The event will take place at BASE and is organized by OpenDot and Comune di Milano, in the framework of the Reflow and Centrinno projects.
The Open Talk is part of We will design BASE's program that collects ideas and research on design for #MilanoDesignWeek.
The Open Talk will be followed by the two-day technical hands-on workshop "EAT. SAVE. MAKE. Learn how food waste can become biomaterial'' in collaboration with Materiom at OpenDot Fab Lab (limited places, registration here)
Open Talk / The program
Introduction on Reflow and Centrinno by Comune di Milano - Rossana Torri & Liat Rogel
Biomaterials: ingredients, processes, potential, implementation, application and impact.
Examples of start-ups and SMEs working with biomaterials focused on design and fashion.
Q&A
The talk will be held in English
Access to the event is allowed only to persons holding the Covid19 Super Green Pass certification (in digital or paper format)
The entry and registration of participants will take place from 6 PM