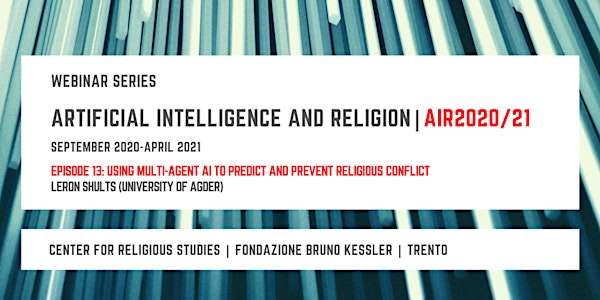 Artificial Intelligence and Religion – AIR2020/21, 13th episode
Webinar Series "Artificial Intelligence and Religion – AIR2020/21", 13th episode: LeRon Shults
Informazioni sull'evento
The Center for Religious Studies of Fondazione Bruno Kessler is pleased to announce the 13th episode of the webinar series "Artificial Intelligence and Religion – AIR2020/21.
LeRon Shults (University of Agder) will present his paper "Using multi-agent AI to predict and prevent religious conflict".
Webinar language: English
The webinar will be held on the Google Meet platform. Registration is required and free of charge. Registered participants will receive the link to the event via email on 24 March 2021, shortly before 4:00 pm CET.
Free Registration Required.
For further information on the event and the webinar series in general, please visit: https://air2020.fbk.eu
***Privacy Notice
In accordance with the EU General Data Protection Regulation (GDPR) No. 2016/679 (described in the Privacy Policy for FBK event's participants), by participating in the event you consent to the processing and use of pictures taken during the event, as well as to the use of streaming services and presentations, and declare that the Foundation will not be charged for any of them. In order not to be filmed or recorded, you can disable the webcam and/or mute the microphone.