Informazioni sull'evento
Località
Milano
via Carlo Farini 5
20154 Milano
Italy
Descrizione
THE NEW FUNDAMENTALS OF ANYLOGIC TRAINING COURSE
3 days of practical problem solving and simulation modelling
Our redesigned, practical training course, encourages you to exercise your new skills in selecting, structuring, building and uniting systems dynamics, discrete event and agent-based simulation modelling in AnyLogic 7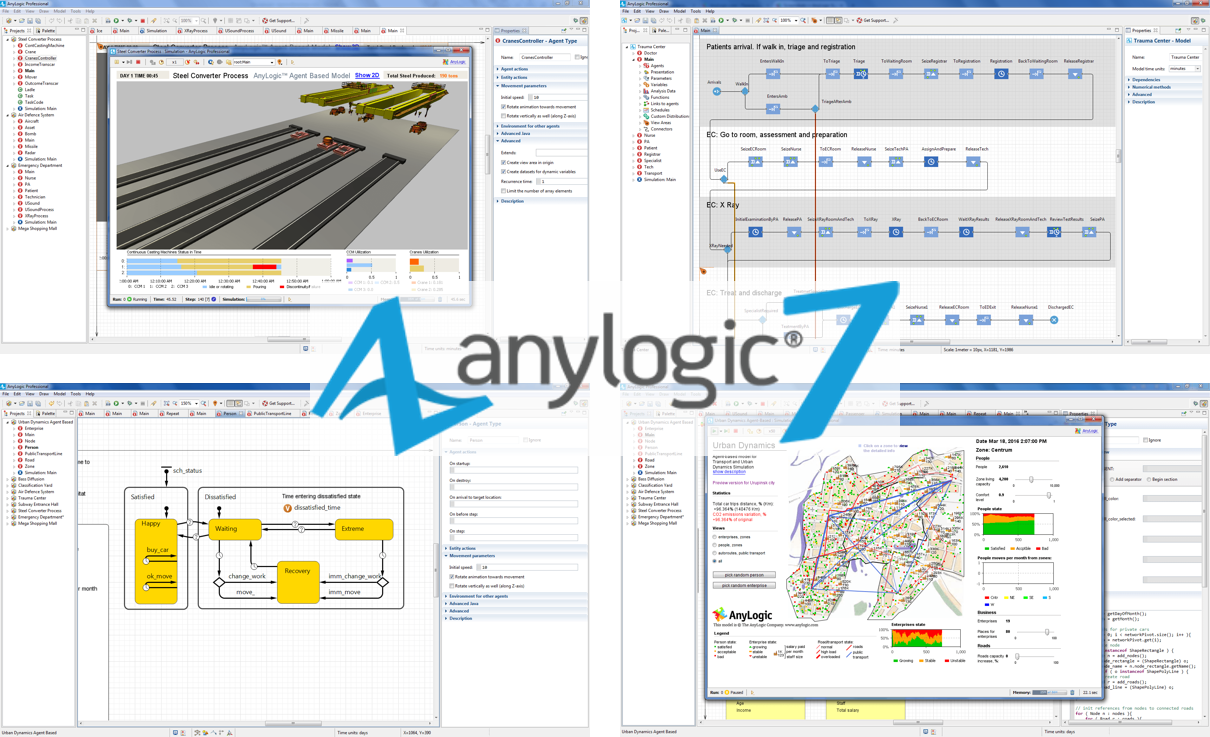 What you need to know about AnyLogic
AnyLogic's graphical interface, tools, and library objects allow you to quickly model diverse areas for example manufacturing and logistics, business processes, human resources, consumer or patient behaviour. AnyLogic's object-oriented design enables the modular, hierarchical, and incremental construction of large models. Compatible With Your OS AnyLogic & is based on the innovative and flexible Eclipse framework this means that AnyLogic runs on all popular operating systems(Windows, Mac and Linux) with the same native look and feel.
New to AnyLogic?
Fast-track your simulation learning with our user-friendly training packed with demos, real-life case studies and hands-on practical exercises.
Experienced Simulation Modeller?
Learn to exploit exciting new features to take your modelling to the next level with powerful drag and drop libraries, 3D visuals and improved capabilities of AL7.3
What you will Learn
You will be guided through:
Structuring a simulation problem

Selecting the appropriate modelling paradigm

Building models in each paradigm

Combining your models into a larger hybrid, this includes building models in 3D, using special wizards and our extensive drag & drop library.
What else you can expect
Throughout the course you will benefit from:
Practical exercises and demonstrations

User friendly explanations and commentary

Tips on solving your modelling challenges

Workshop participants will be exposed to a wide range of relevant case studies and will have an opportunity to discuss their own modelling projects with an internationally recognised expert. Be prepared to share your specific simulation needs with your instructor- bringing your own models is encouraged.
Course Mentor
Roberto Grugni - Partner at Fair Dynamics Consulting.
Roberto Grugni is one of the Italians leading practitioners of Modelling and Simulation, collaborating with business clients, academic institutions and consulting partners across a wide range of industries.
Day by Day Course Content
Day One:
Introduction to multi-method simulation modelling- theory and demo

Getting familiar with AnyLogic model development enviroment - demo

Discrete Event (Process- Centric) modelling - theory

Factory model - Discrete Event exercise

System Dynamics - theory

Bass Diffusion model- System Dynamics exercise
Day Two:
Agent Based modelling - theory

SIR Model. Calibration - Agent Based exercise

Java basics for AnyLogic modellers - theory

Supply Chain GIS model- exercise - exercise

Windmill turbines maintenance model. Optimization - exercise
Day Three:
Pedestrian modelling - theory

Small airport modelling - Pedestrian excercise

Call Centre model - self-paced Discrete Event exercise

Hump Yard - Rail Library excercise

Questions and Answers / Personal Consultation
*Depending on the nationality of the partecipants, the course will be taught in English or Italian.
The course fee includes
Trial versions of the software

250 pages manual and worked samples

One-to-one time with course instructor to discuss your specific projects

Morning and afternoon coffee breaks throughout the training
Travel details
The training location is walking distance from Porta Garibaldi Train Station and two metro stops: line M2 - Porta Garibaldi; line M5 - Monumentale. If you are flying in from Milano Malpensa Airport, a taxi will cost €90 to any destination in Milan; in alternative, you can take the Malpensa Express Train from Terminal 1 (€12,50) to Porta Garibaldi Station. If you are flying in from Milano Linate Airport, a taxi will have a minimum price of €12,50. If you are travelling by train to Milano Centrale Station, you can take the line M2 and exit at Porta Garibaldi stop.
Lodging
The following hotels are near the training location:
Hotel Holiday Inn Milan Garibaldi Station
What you will need
Please bring with you your laptop. We also recommend you bring a mouse (although some programming or modelling experience would be helpful, it is not essential).
If you do not already have AnyLogic on your laptop, we can provide a trial version (www.anylogic.com).
Data e ora
Località
Milano
via Carlo Farini 5
20154 Milano
Italy
Organizzatore di AnyLogic Fundamental Training Course - Milano
Fair Dynamics Consulting is a management consulting company that helps customers to improve their decision-making process. Fair Dynamics applies the latest modelling and simulation techniques to improve strategic decision-making and long-term business performance as a distinctive aspects. Clients including Glaxo Smith Kline, Trenitalia, Banca d'Italia and differents Italians airports have all benefited from Fair Dynamics methodologies and approach to problems.
Fair Dynamics was set up by a group of consultants with long and proven experience, former managers and academics
As well as working direct with big clients, we collaborate with academic institutions to bring, spread and enforce multi-paradigm modeling and a simulation expertise.
We provide services on a consultancy basis or can work alongside your in-house team on live projects, to accelerate learning, deliver early insights and share knowledge and experience.
Fair Dynamics is also the official Italian supplier of AnyLogic software. Which means it is the only consulting company in the Italy with the requisite level of practitioner expertise to structure projects and train and support AnyLogic analysts.                    
For further information or to explore opportunities for collaboration, please email: info@fairdynamics.com