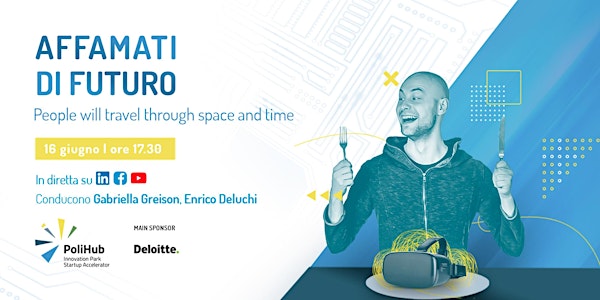 Affamati di Futuro | People will travel through space and time
Digital meeting condotto da Gabriella Greison ed Enrico Deluchi dedicato al futuro della mobility, con l'intervento di tre ospiti
Informazioni sull'evento
Andremo in vacanza su Marte? Raggiungeremo l'Australia in poche ore? Come sarà la mobilità del futuro? Quali saranno i suoi confini?
Sono molte le sfide a cui è necessario rispondere: la crescita della popolazione mondiale, che andrà sempre più a concentrarsi nei centri urbani; la tutela dell'ambiente; la riduzione dell'utilizzo dei combustibili fossili; la necessità di collegare in poco tempo gli angoli opposti del pianeta; la possibilità di esplorare e sviluppare tratte turistiche e commerciali nello spazio.
Affamati di Futuro è il format prodotto da PoliHub, in collaborazione con Deloitte Italia, che si rivolge alla community online di innovatori, startupper, appassionati di tecnologia e curiosi. Mobilità urbana elettrica, viaggi spaziali, trasporti sostenibili ad alta velocità e le nuove frontiere della mobilità sostenibile saranno il focus di Affamati di Futuro | People will travel through space and time: 4 ospiti, provenienti da ambiti chiave quali startup, università, aziende e imprenditoria, si confronteranno in un dialogo a più voci su tecnologia e innovazione, mostrando che il futuro è più vicino di quanto pensiamo!
L'evento, in programma mercoledì 16 giugno alle 17.30, sarà in live streaming su YouTube, Facebook e LinkedIn.
Interverranno:
Bibop Gresta, cofondatore di Hyperloop TT e CEO e fondatore di Hyperloop Italia
Tommaso Gecchelin, Founder & CTO di NEXT Modular Vehicles
Tommaso Ghidini, Head of the Structures, Mechanisms and Materials Division, European Space Agency
Luigi Onorato, Insurance Sector Leader e FSI Innovation Leader, Deloitte
L'incontro sarà moderato da Gabriella Greison, fisica, scrittrice, giornalista e attrice teatrale ed Enrico Deluchi, General Manager di PoliHub.
PoliHub è l'Innovation Park and Startup Accelerator del Politecnico di Milano, gestito dalla Fondazione dell'Ateneo.
Main sponsor dell'evento, Deloitte Italia.