18th European Conference | The Latest Technology in Refrigeration and Air C...
Informazioni sull'evento
Località
Politecnico di Milano
Piazza Leonardo Da Vinci, 32
Milano
Italy
Politica di rimborso
Rimborsi fino a 30 giorni prima dell'evento
Descrizione
18th EUROPEAN CONFERENCE
THE LATEST TECHNOLOGY IN REFRIGERATION AND AIR CONDITIONING
ENVIRONMENT, ENERGY, TRAINING, CERTIFICATION, LEGISLATION, STANDARDS, SAFETY

Under the Auspices of the Italian Ministry for the Environment, Land and Sea Protection
UNITED NATIONS ENVIRONMENT
INTERNATIONAL INSTITUTE OF REFRIGERATION
AREA EUROPEAN ASSOCIATION
CENTRO STUDI GALILEO
ASSOCIAZIONE TECNICI DEL FREDDO
EUROPEAN ENERGY CENTRE
Politecnico of Milan, De Donato Room, 6 - 7 June 2019
For any possible discounts, or if you wish for other terms of payment, please write an e-mail to conference@centrogalileo.it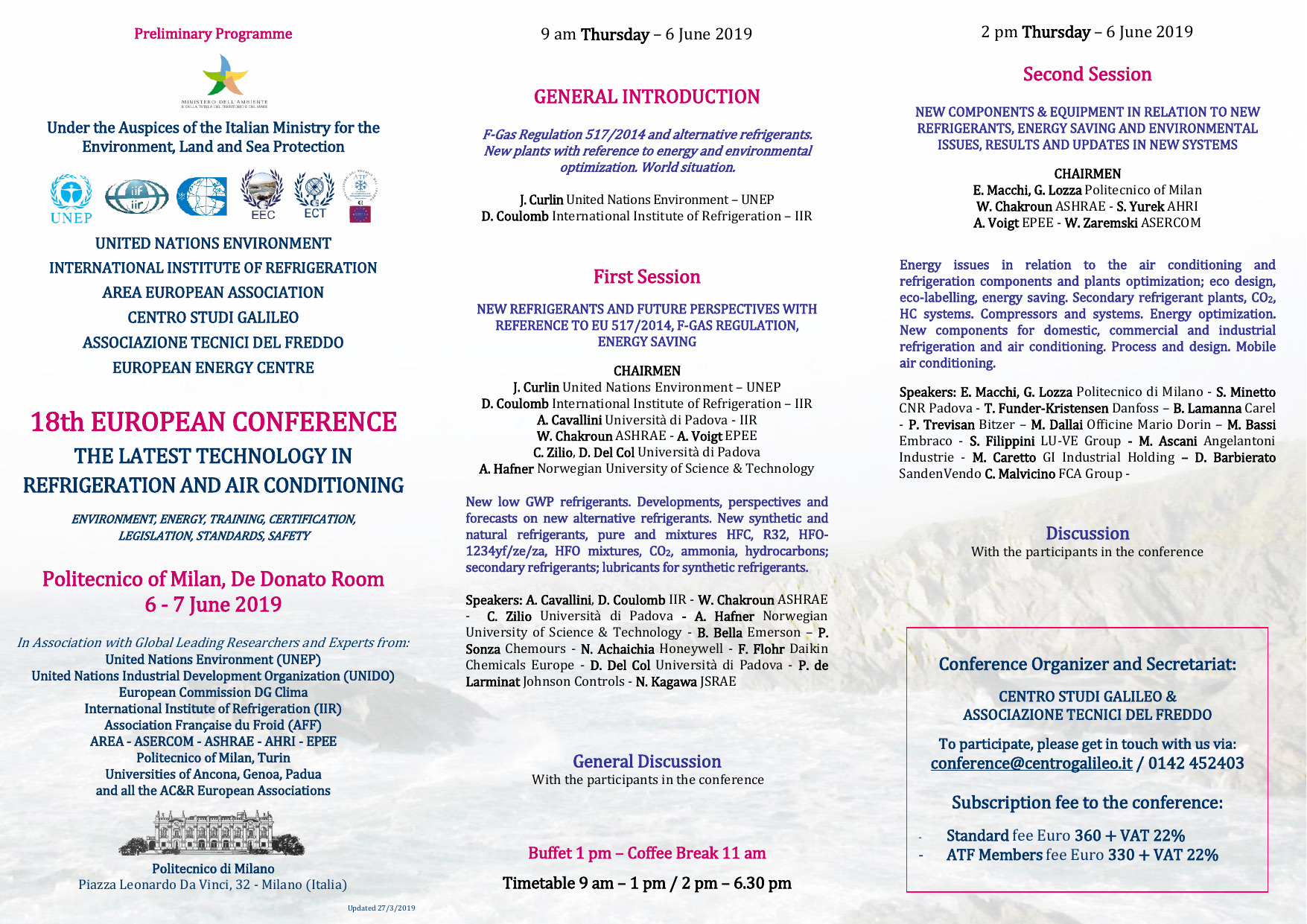 General Introduction
F-Gas Regulation 517/2014 and alternative refrigerants. New plants with reference to energy and environmental optimization. World situation.
J. Curlin United Nations Environment - D. Coulomb International Institute of Refrigeration
First Session
New low GWP refrigerants. Developments, perspectives and forecasts on new alternative refrigerants. New synthetic and natural refrigerants, pure and mixtures HFC, R32, HFO-1234yf/ze/za, HFO mixtures, CO2, ammonia, hydrocarbons; secondary refrigerants; lubricants for synthetic refrigerants.
Speakers: A. Cavallini, D. Coulomb IIR - W. Chakroun ASHRAE - C. Zilio Università di Padova - A. Hafner Norwegian University of Science & Technology - B. Bella Emerson - P. Sonza Chemours - N. Achaichia Honeywell - F. Flohr Daikin Chemicals Europe - C. Marotta General Gas - D. Del Col Università di Padova - P. de Larminat Johnson Controls - N. Kagawa JSRAE
Second Session
Energy issues in relation to the air conditioning and refrigeration components and plants optimization: eco design, eco-labelling, energy saving. Secondary refrigerant plants, CO2, HC systems. Compressors and systems. Energy optimization. New components for domestic, commercial and industrial refrigeration and air conditioning. Process and design. Mobile air conditioning.
Speakers: E. Macchi, G. Lozza Politecnico di Milano - S. Minetto CNR Padova - T. Funder-Kristensen Danfoss – B. Lamanna Carel - P. Trevisan Bitzer – M. Dallai Officine Mario Dorin – M. Bassi Embraco - S. Filippini LU-VE Group - M. Ascani Angelantoni Industrie - M. Caretto GI Industrial Holding – D. Barbierato SandenVendo - C. Malvicino FCA Group
Third Session
The Kigali Amendment: HFC Phase-down, flammable refrigerants' standards, illegal refrigerants, inspections, logbook, maintenance. Containment, recovery and recicling. Training and certification in Europe and Italy. Products' and components' certification.
Speakers: N. Costantini EU Commission Climate Action - F. Polonara UNEP TEAP-RTOC - A. Voigt EPEE - W. Zaremski ASERCOM - F. Scuderi Eurovent - S. Yurek AHRI – F. Walravens EIA - K. Skačanová shecco - M. Buoni AREA - M. Creamer Business Edge – M. Botteri Ecocerved

Fourth Session
New technology in the cold chain: vehicles, trains, ships and cold storage; food conservation and preservation; applications in commercial and domestic refrigeration, supermarkets, industry. Energy saving optimization. Insulation; environmental control in food processes, safety control in the cold chain ATP.
Speakers: D. Coulomb IIR - S. Bracco FAO - O. Nielsen UNIDO - G. Cavalier AFF - M. Sakandé New Cold System - D. Tairis Hellas Union Fgas
Fifth Session
Heat pumps, solar refrigeration and cooling with absorption and adsorption plants, renewable energy in air conditioning and refrigeration fields. Evaporative cooling, district cooling and magnetic cooling.
Speakers: D. Coulomb IIR - T. Nowak EHPA - R. Saccone Assoclima - M. Masoero ATF & Politecnico di Torino - L. Tagliafico Università di Genova - K. Berglöf ClimaCheck - F. Benassis Climespace - M. Staicovici S. C. Varia Energia
Conclusions and Recommendations
Future perspectives in relation to new regulations and technology, climate change.
J. Curlin United Nations Environment - D. Coulomb International Institute of Refrigeration

---
EUROPEAN HVAC&R WEEK
For the first time the 18th European Conference, proudly held by CSG-UNEP-IIR, will be part of the brand new European HVAC&R Week, together with EPEE-EVIA, who will host Eureka 2019.
Centro Studi Galileo will dedicate seven days in June to refrigeration and air conditioning, joining European countries in the search for advanced technologies and solutions to tackle climate change; while focused on supporting the United Nations in reaching the renowned 17 Sustainable Development Goals.
Milan and Bruges will be united, from 6-7 June until 11-12 June respectively, in this aim by four of Europe's most active Associations - AREA, ATF, EPEE and EVIA - who will create a unique, fully fledged learning and exchange opportunity for the HVAC&R sector.
Benefit from 20% discount for both events! CONTACT US to get the discount code: conference@centrogalileo.it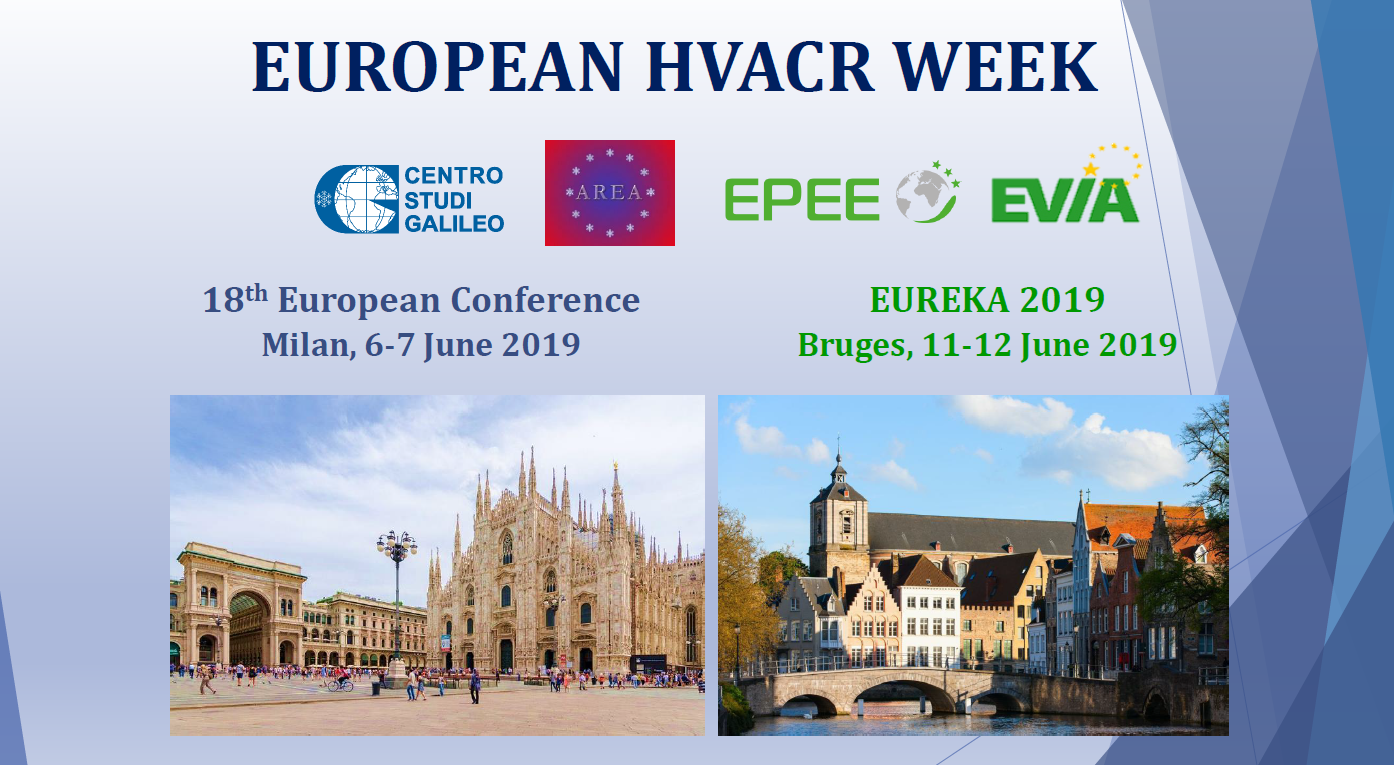 Data e ora
Località
Politecnico di Milano
Piazza Leonardo Da Vinci, 32
Milano
Italy
Politica di rimborso
Rimborsi fino a 30 giorni prima dell'evento