Be Cool with CO2! Besplatna radionica na temu Alternativne radne tvari
Sales Have Ended
Registrations are closed
Dear Participant, We appreciate your interest in our training activity and we remain at your disposal, before meeting you in Zagreb. Please contact romano@centrogalileo.it for any enquiries. See you soon and best regards, Centro Studi Galileo
Sales Have Ended
Registrations are closed
Dear Participant, We appreciate your interest in our training activity and we remain at your disposal, before meeting you in Zagreb. Please contact romano@centrogalileo.it for any enquiries. See you soon and best regards, Centro Studi Galileo
Besplatna radionica na temu Alternativne radne tvari i CO2 u Zagrebu, 16. listopada 2019 (HURKT + CSG + ATF + RA @ Sveučilište u Zagrebu)
About this event
O ovom događaju
Radionica će se održati 16. listopada u prostorijama Fakulteta strojarstva i brodogradnje Sveučilišta u Zagrebu. Predavanja će održati prof.dr.sc. Marino Grozdek, a uvod prof. dr. sc. Tonko Ćurko predsjednik udruge.
Tijekom cijelog dana (od 9 do 17 sati) pristupnici će imati priliku naučiti više o svojstvima i prednostima CO2 kao radne tvari u usporedbi s tradicionalnim HFC radnim tvarima, u skladu s međunarodnim propisima s ciljem zaštite okoliša.
Nakon teorijskog uvoda i pauze za kavu, sudionici će biti dočekani u laboratorijima tvrtke MB Frigo, lokalne tvornice izvrsnosti, gdje će nakon obilaska prisustvovati praktičnoj demonstraciji na CO2 uređaju. Nakon dodjele uvjerenja o pohađanju radionice, dan će se završiti.
Broj mjesta je ograničen.
---
Da biste preuzeli raspored radionice kliknite ovdje
---
U slučaju bilo kakvih upita, ne ustručavajte se kontaktirati:
Ms Silvia Romanò
Head of International Affairs - Centro Studi Galileo
Tel.: +39 0142 530840 | E-mail: romano@centrogalileo.it
---
Da biste saznali više o organizatorima:
Centro Studi Galileo - CSG: http://www.centrogalileo.it/
Hrvatska udruga za rashladnu, klima tehniku i dizalice topline - HURKT: http://www.hurkt.hr/
Associazione dei Tecnici italiani del Freddo - ATF:  http://www.associazioneatf.org/
REAL Alternatives 4 LIFE Project - RA4LIFE: https://realalternatives.eu/
---
Radionica se održava pod sponzorstvom tvrtke CAREL Industries SpA: https://www.carel.com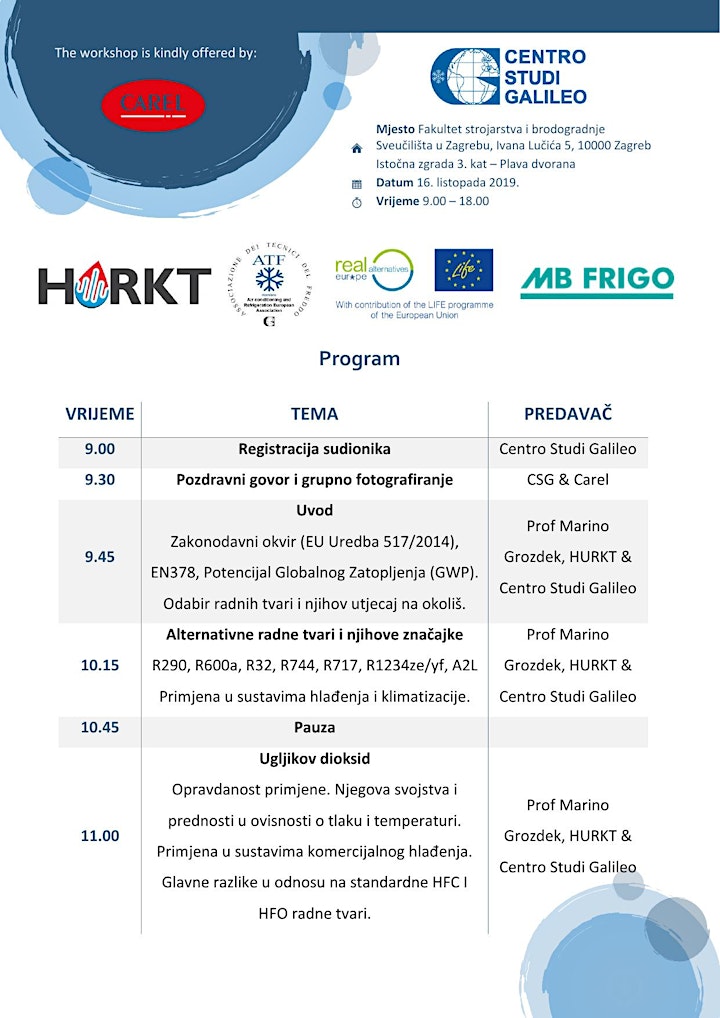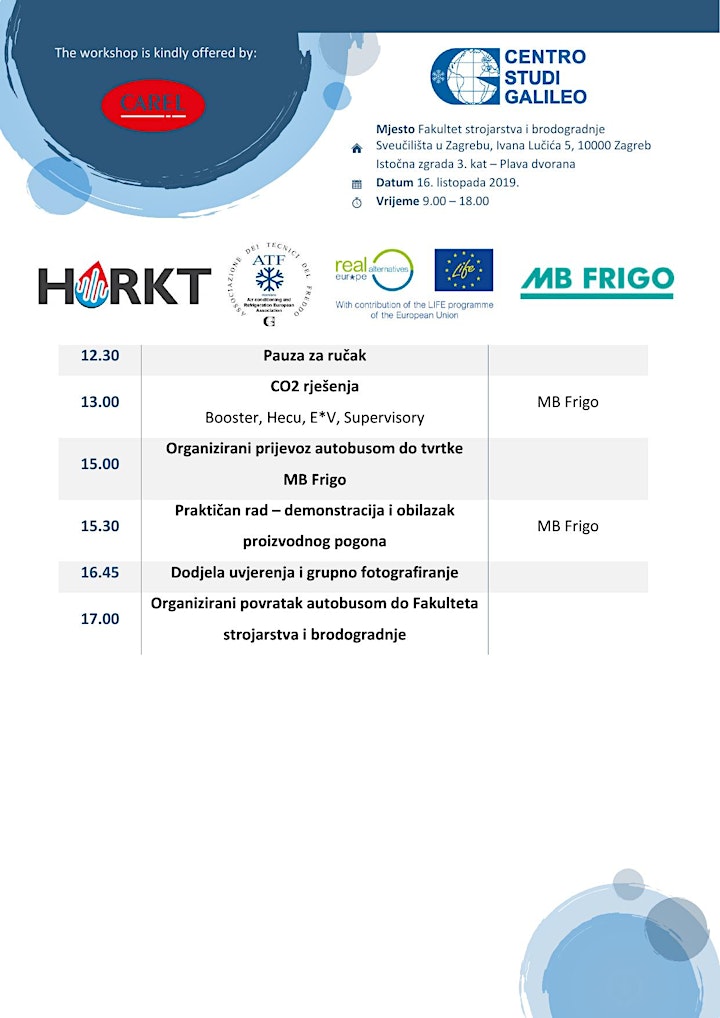 Organiser of Be Cool with CO2! Besplatna radionica na temu Alternativne radne tvari
Il Centro Studi Galileo è il più autorevole Centro Formativo in Italia ed è considerato uno dei primi in Europa e nel mondo per l'attività di formazione e informazione nei settori del freddo, condizionamento e delle energie rinnovabili.
Nato 40 anni fa nella storica Capitale del Freddo, Casale Monferrato, il CSG da 4 decenni collabora con realtà internazionali, sviluppando partnership di altissimo livello e prestigio con i maggiori enti, associazioni, istituzioni europei e mondiali. Tra gli altri la strettissima collaborazione con l'IIR, Istituto Internazionale del Freddo di Parigi, ente intergovernativo finanziato da 63 governi, dal quale dipende più dell'80 % della popolazione mondiale, con le Nazioni Unite – UNEP e con la Commissione Europea fa assumere al CSG centralità nel meccanismo decisionale e di indirizzo delle politiche internazionali di settore.
Ulteriore supporto al settore del freddo è giunto da parte di Centro Studi Galileo unendo per la prima volta Tecnici – Industrie e Università al fine di dare sempre maggiore completezza e efficacia all'informazione e alla formazione. Sono decine di anni infatti che organizza nelle principali università italiane convegni e corsi sulle ultime tecnologie del freddo e sulle energie rinnovabili.
Le Nazioni Unite hanno inoltre scelto i patentini CSG a livello mondiale per i Presidenti delle associazioni a loro collegate inviandoli ai corsi a Casale Monferrato per essere formati e trasmettere il Know How ai loro associati.