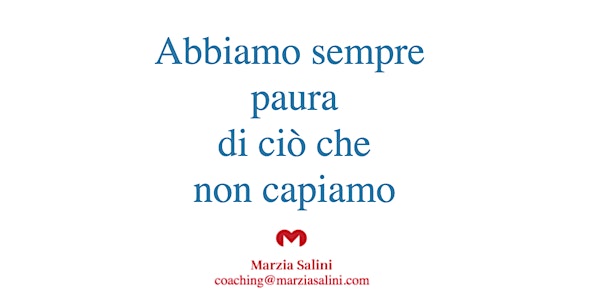 Avere paura o non avere paura?
Avere paura o non averne? Come usare al meglio la paura. (si, proprio quella piccola cosa che non riconosci neppure di stare vivendo).
Refund Policy
Contact the organizer to request a refund.
About this event
Cinque sessioni online, il martedì alle 18,30 a partire dal giorno 11 gennaio 2022.
Tutti conosciamo la paura. L'abbiamo provata almeno una volta nella vita. Sia che siamo disposti ad ammetterlo o meno, quella sensazione la conosciamo.
In tempi difficili la paura tende a ripresentarsi, senza invito. Di primo acchito potremmo anche non accorgercene, ma prima o poi ne riconosciamo i sintomi e, con un capace lavoro di ingegneria a ritroso, ne riconosciamo la sorgente. E... iniziamo a negare!
Sembra che ci sia stato impiantato una sorta di microchip nel cervello, a un certo punto della vita, che ci dice che quella paura non va bene. Ci rende inadeguati.
Giorno dopo giorno abbiamo nutrito l'idea che tutto ciò che ci mette a disagio è sbagliato. E oggi, nel qui e ora, siamo incapaci di liberarci di questo concetto limitante. Qualcosa che è nato come protezione si è trasformato in una malsana abitudine.
Indipendentemente da ciò che facciamo (pensare intensamente a quanto ci preoccupa, parlare con il nostro migliore amico, a volte persino parlare con lo psicologo) proprio non ce la facciamo a completare una vera transizione verso una condizione di chiarezza nella quale siamo davvero padroni della nostra vita.
... e la paura, prima o poi, ritorna.
In queste sessioni guiderò i partecipanti tra riflessioni, confronti e insegnamenti e darò spazio alle loro domande. Scopriremo insieme che la risposta alla domanda in apertura, Avere paura o non averne? è, in effetti, Avere paura E non averne.
Impareremo che non vivendo l'esperienza della paura non cresciamo. Arriveremo addirittura a considerare la possibilità che colei o colui che ha paura abbia migliori possibilità di riuscita in qualsiasi cosa voglia realizzare rispetto a chi la nega.