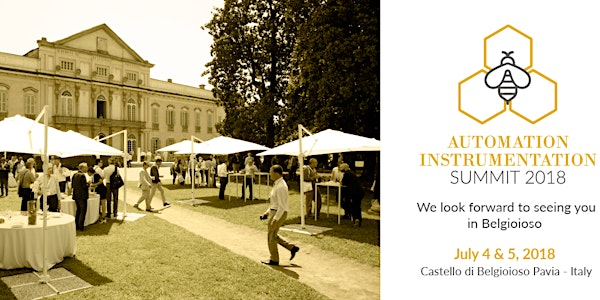 Automation Instrumentation Summit 4-5 July 2018
By Castello di Belgioioso
Date and time
Wed, 4 Jul 2018 09:00 - Thu, 5 Jul 2018 18:00 CEST
Location
Castello di Belgioioso 1 Via Dante Alighieri 27011 Belgioioso Italy
Description

The Automation Instrumentation Summit ® will take place in Castello Belgioioso PV near Milano, Italy on 4-5 July 2018.
The worldwide recession can become an opportunity for us to look at what we have done so far, and identify the best strategies for future improvements.
All speakers will have the opportunity to present their papers based on case histo­ries and share common experience with all the other expertise during the AIS- ISA Italy conference and in the meantime the manufacturers will have the opportunity to showcase their product and solutions at the stands of the Exhibition.
About the organiser
It is believed to have been the initiative of Galeazzo II, who had it built on the extensive landholdings of the Visconti family in the second half of the 14th century. This historic monument now offers a stunning setting for public and private events, including weddings and company parties.
The Ente Fiera now boasts thirty years of experience in the organization of exhibitions and art events, drawing in more than 600 exhibitors and over 80,000 visitors each year from all over Italy.
PROMOTERS of the event are AIS ISA ITALY SECTION: two associations having the aim of promoting the knowledge of instruments and systems for measurement and control by means of meetings, conferences and literature.