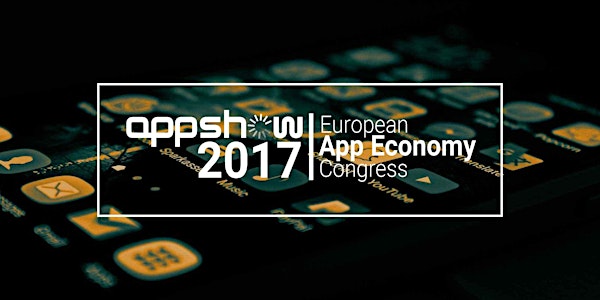 AppShow + European App Economy Congress
When and where
Location
Nhow - via Tortona, 35 via Tortona, 35 20144 Milano Italy
Description
IL PRIMO SHOW DEDICATO ALLE APP PER SMARTPHONE E TABLET
Tutta l'elite digitale d'Europa con startup di fama internazionale
Non perdere l'occasione di entrare in contatto diretto con oltre 70 tra i più importanti ispiratori pronti a condividere esperienze, consigli e segreti
Dimenticati i soliti congressi, AppShow è tutta un'altra storia.
Dall'Italia, da molti paesi dell'UE e oltre, influencers e innovatori per discutere sulle sfide da affrontare, incoraggiare a pensare fuori dagli schemi, fare rete e ispirare.
BlaBlaCar, Deliveroo, Moovit, The Fork, Just Eat, Helpling, Tricount, DriveNow, Mytaxi e Meetic sono solamente alcune delle numerose aziende e startup che porteranno i propri CEO, founder e country manager sui palchi del Congresso! Vedi tutti gli speakers
Imperdibili workshop, conferenze e keynote su topic come mobile app, cyber security, internet of things, cognitive computing, mobile marketing, big data, bot, VR.
---
THE EVENT
For the first time in Europe, protagonists of the app economy will convene to discuss the app world and how it has changed our lives. Our work, education, entertainment, and shopping behavior, as well as our habits, lifestyles, and daily activities, and indeed even our culture have all been transformed by the app economy.

AppShow + European App Economy Congress will take place in December from 4 to 6, 2017 in Milan at nhow Congress Centre.

Come to the first European App Economy Congress with a rich agenda of demos, keynotes, workshops, and conferences.

Spend three days deepening your knowledge on topics such as mobile apps,cybersecurity, IoT, cognitive computing, mobile marketing,big data,wearables, and VR.
Our speakers are mostly C-Levels from big app economy companies such as Moovit, DriveNow, eCooltra, Meetic, ...

---
EUROPEAN APP ECONOMY CONGRESS AGENDA
AppShow acts as a European hub for players, business customers, investors and users in order to support the development of new professionals, promote the latest market innovations, and test the tastes and trends of everyday users.
The schedule includes plenary sessions, thematic conferences, workshops, and keynotes held by international speakers.
The speeches will be held in Italian and in English both.

---
SPEAKERS
Milan will host hundreds of professionals across the mobile, tech and Apps space, attracting speakers from Europe and the world's digital elite such as:
MOOVIT - Roy Bick, Co-founder

MEETIC - Xavier De Baillenx, Innovation Lead
FORD - TBD
DRIVENOW - Andrea Leverano, Managing Director
ECOOLTRA - Maurizio Pompili, Country Manager
IQUII - Fabio Lalli, CEO
AGID - Stefano Quintarelli, Presidente del Comitato di Indirizzo
POLITECNICO DI MILANO - Stefano Zanero, Professor
SARAGOZA CITY COUNCIL - Daniel Sarasa Funes, Smart City Program Manager
BLABLA CAR - Andrea Saviane - Country Manager
JUST EAT - Daniele Contini, Country Manager
DELIVEROO - Matteo Sarzana, Country Manager
TADO - Leopol Von Bismarck, CMO
ITALTEL - Stefano Pileri, AD
TELIT - Chicco Testa, Chiarman of the Board
FOODORA - Gianluca Cocco, CEO
GLOVO - Matteo Pichi, Country Manager
---
NETWORKING
The participation in the following events is reserved exclusively for Business Pass PLUS owners, speakers, and high profile guests on our list.
OPENING PARTY - The opening day will feature the 2017 launch of AppShow for an exclusive circle of opinion leaders, influencers, and visitors in an incredible atmosphere.

GALA DINNER - An exclusive gala dinner will be held on the second day of AppShow in one of the most impressive locations in Milan.
NETWORKING APERITIFS - Every afternoon, in AppShow's Business Club, there will be an opportunity to meet each other face to face over a cocktail, drink, and buffet in a relaxed environment.
---
CONTACTS
AppShow is conceived and organized by Palli Comunicazione: an agency, working in the integrated communication sector and in the creation of events since 1994. Its team is composed by experienced professionals who rode the wave of communication for the last 30 years.
You can reach us at info [at] appshow [.] eu