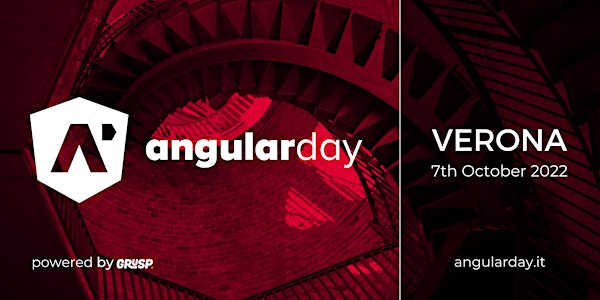 angularday 2022
angularday 2022 - The international conference about angular, in Verona (Italy)
When and where
Location
Via Baldassarre Longhena, 42 42 Via Baldassarre Longhena 37138 Verona Italy
About this event
Connect with the Italian and International Angular Community
angularday 2022 is the 6th edition of the Italian Angular Conference, organized by GrUSP, happening in beautiful Verona (Italy).
The event is international and all sessions will be in English.
📅 WHEN
Conference: Friday 7th October 2022.
Workshop: Saturday 8th October 2022.
📍 WHERE and HOW
The conference is hybrid: it takes place in person in Verona and it is also possible to participate online.
Access to the physical event will be subject to current COVID-19 regulations, which may change by the conference date. More info on our safety policy.
Access to the online event only (live broadcast of the conference) can be purchased separately.
🎯 CONFERENCE AGENDA (Friday 7th October)
Find the conference schedule on the website.
Talks and speakers:
What's new in Angular - Simona Cotin
How to scale up your angular projects like a pro - Luca Del Puppo
It's Alive! Dynamic Components in Angular - Shmuela Jacobs
Architecting large scale Angular apps with Module Federation - Juri Strumpflohner
Testing Angular apps with Cypress in CI - Edoardo Dusi
GraphQL in Angular - Stanimira Vlaeva
Love Story - Testing angular components with Storybook and Playwright - Tally Barak
Service Workers: understand and use 👨‍🔬 - Stepan Suvorov
🧑‍💻 WORKSHOP (Saturday 8th October)
[Italian Language 🇮🇹] Angular Masterclass: RxJS 7, autenticazione e sicurezza
Acquisisci le conoscenze necessarie per mettere al sicuro la tua applicazione e sfruttare il paradigma reattivo in applicazioni Angular. Docenti: Fabio Biondi e Michele Stieven. Info e programma sul sito.
ngGirls - free workshop for women
We are happy to host a ngGirls workshop! During the workshop you will build and deploy your very first Angular Web Application. Find all the information and how to partecipate (or to mentor) on the website.
🎫 TICKETS
"Access to the in-person event in Verona" - includes:
Access to the conference venue (Verona, Italy) on 7th October 2022;
Lunch and coffee break on the conference day;
Access to the virtual venue (online broadcast) of the conference;
Access to video recordings.
"Access online event only" - includes:
Access to the virtual venue (online broadcast) of the conference on 7th October 2022;
Access to video recordings.
"CORSO RxJS, autenticazione e sicurezza" - includes:
Access to the workshop on 8th October 2022;
Lunch and coffee break.
For each conference, the price of the hybrid ticket depends from the period of sale. Very early bird tickets are the cheapest tickets that can be purchased and are limited in number, for this reason no discounts are applied to this type of ticket if a scholarship is requested while they are on sale.
➡️ ACCESSIBILITY
We work every day to make our conference accessible and inclusive for as many people as possible. Here you can find the level of accessibility for our online and in person events. This is possible thanks to the fund dedicated to diversity and inclusion. If you have special needs, write to us or tell us by filling out the registration form, we will do our best to meet your needs.
🌈 SCHOLARSHIPS
Thanks to our scholarships program we provide free or discounted tickets for students or groups that are under-represented in the tech area. Here you can find more details and request a free ticket. The costs of transport, food and accommodation are not covered.
🔎 SPONSOR
We are looking for sponsors who want to support the conference to get in touch with the International angularjs community. Write to angularday@grusp.org for information and discover all the opportunities for your company.
🤝 PARTNER
Are you an organizer of a angularjs community? Become our partner to receive discounts and free tickets that you can share with community members. Here you will find our partnership proposal and all the useful details.
📌 CODE OF CONDUCT
To ensure that anyone can feel comfortable and safe we apply the following code of conduct: grusp.org/en/coc
🔔 ABOUT ANGULARDAY
The conference is organized by GrUSP, creators of events like jsday and many more.  
You can find videos from past editions on GrUSP's channels: Vimeo - Youtube.
Follow angularday on Facebook and Twitter.
You can find GrUSP on Instagram, Linkedin, YouTube, Vimeo, Facebook, Twitter, Slack.
Subscribe to GrUSP newsletter: grusp.org/en/nl
❓FAQ
The tickets are not refundable.
What if the pandemic situation get worse? We're watching the evolving situation closely, and we'll be ready to switch to an online event if the situation won't be safe.
INVOICING: you'll receive an email with the instructions after the purchase.
If you are a student, or you need to buy multiple tickets (at least 5 tickets of any kind), send a mail to info@grusp.org for a discount.
The tickets are nominative: you can change the name on it until a week before the event.
The event is organized and sold by Apropos, on behalf of GrUSP.