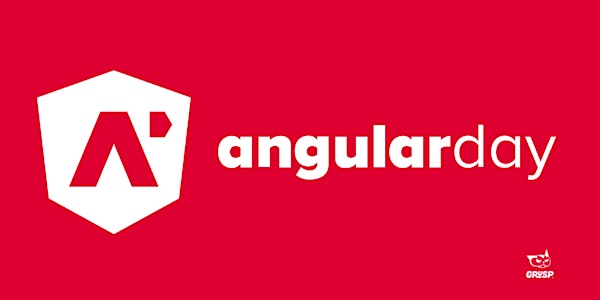 angularday 2021 Digital Edition
angularday 2021 is happening online on November 12th, 2021
About this event
angularday 2021 Digital Edition - angularday.it
Connect with the Italian and International Angular Community: meet us online on Friday 12th November 2021
👉 The DIGITAL conference will be accessible only to registered participants. It will be held on Hopin, a virtual venue in which you'll be able to:
watch the live streaming and learn from top-notch speakers;
ask questions to speakers and interact with them;
chat and talk with other attendees, interact and make connections.
🎯 TALKS AND SPEAKERS
Check out the program on the website.
🎫 TICKETS AVAILABLE
"angularday Digital Edition Ticket" gives you access to the live event and to all the recorded contents.
🌈 SCHOLARSHIPS
We have a scholarships program: you can apply for a free ticket if you are a member of under-represented groups in technology - women, minorities, LGBTQIA+, people with disabilities, or other under-represented groups.
🔎 SPONSOR
If you are interested in sponsoring the event, you can find all the relevant information on the website.
🤝 PARTNERS
Are you an organizer of an Angular community and would you like to be our partner? Read our presentation here (bit.ly/GrUSPPartnership-ENG) and request the partnership by filling this form (bit.ly/BecomeGrUSPPartner).
🔔 ABOUT
The conference is organized by GrUSP, creators of events like jsday (and many others). 
You can find videos from past editions on GrUSP's channels: Vimeo - Youtube.
Follow angularday on Facebook and Twitter
You can find GrUSP on Instagram, Linkedin, YouTube, Vimeo, Facebook, Twitter, Slack.
Subscribe to GrUSP newsletter: bit.ly/grusp-nl
❓FAQ
The tickets are not refundable.
INVOICING: you'll receive an email with the instructions after the purchase.
If you are a student, or you need to buy multiple tickets (at least 5 tickets of any kind), send a mail to info@grusp.org for a discount.
The tickets are nominative: you can change the name on it until a week before the event.
The event is organized and sold by Apropos, on behalf of GrUSP.