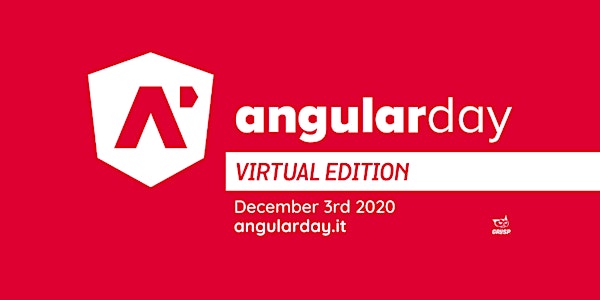 angularday 2020 - Virtual Edition
The international Angular conference in Italy - 2020 edition happening online
About this event
angularday is the first International conference about Google's frontend framework in Italy - 4th edition! 
angularday 2020 will take place online on THURSDAY, 3rd December 2020.
The conference will be accessible only to registered participants.
It won't be just a video-streaming event. The conference will be held on a very easy-to-use web-based platform that allows you to:
• watch the live streaming and learn from top-notch speakers;
• ask questions to speakers and interact with them;
• chat and talk with other attendees, interact and make connections.
TICKETS AVAILABLE
• "angularday Virtual Edition Ticket" - gives you access to the live event on December 3rd 2020 and to all the recorded contents.
• "GrUSP 2020 SEASON PASS" - a Golden Ticket that gives you access to all of our virtual events: 11 awesome tech conferences, from September to December 2020! See below the full list.
THE CONFERENCE
angularday is aimed at developers and technical manager. The conference is in English language with speakers and attendees from all over the world. Attending each year, you can stay up-to-date with Angular and its companion technologies development, find new partners and meet new potential colleagues. 
Find out more about the event, speakers and talks on the website.
Topics will cover dev methodologies, best practices, success cases, code quality, data architecture, modularization, performances and much more.
If you are part of an under-represented group in tech, you can apply for a scholarship.
angularday is organized by GrUSP (creators of events like jsDay and phpDay). 
Browse past editions: 2019 | 2018 | 2017 
Videos from the past editions are available on Vimeo and YouTube 
FAQ
- The tickets are not refundable.
- If you are a student, or you need to buy multiple tickets (at least 5 tickets of any kind) mail to info@grusp.org for a discount.
- We have a SCHOLARSHIP SCHEME: you can apply for a free ticket if you are a member of under-represented groups in technology - women, minorities, LGBTQIA+, people with disabilities, or other under-represented groups.
- The tickets are nominative: you can change the name on it until a week before the event.
- INVOICING: you'll receive an email with the instructions after the purchase.
CONFERENCES INCLUDED IN "GrUSP SEASON PASS" (the Pass grants you access to the upcoming live events, and to the recordings of the past ones)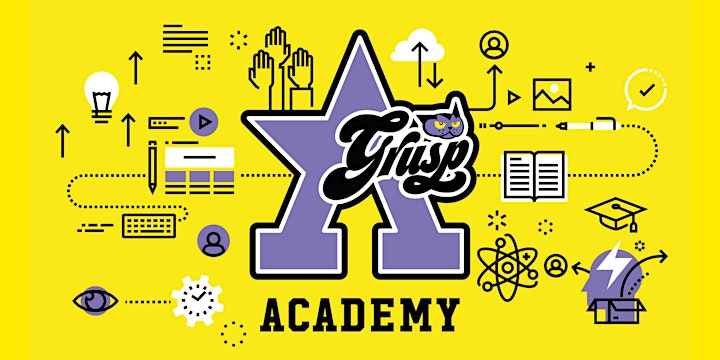 And if you want to grow your skills...
Check out the upcoming GrUSP Academy Masterclasses!
In Italian language:
About the organiser
The italian PHP user group
GrUSP
(Gruppo Utenti e Sviluppatori PHP - www.grusp.org) was born in the last months of 2003 and was officially launched during the second edition of the
phpDay
conference in October of 2004. Since then it has always tried to fullfil its goal, spreading the knowledge of PHP, its features and benefits to the italian IT community and contributing to its shift from being only an amateur scripting language to an enterprise-ready programming language. GrUSP has grown over the years up...