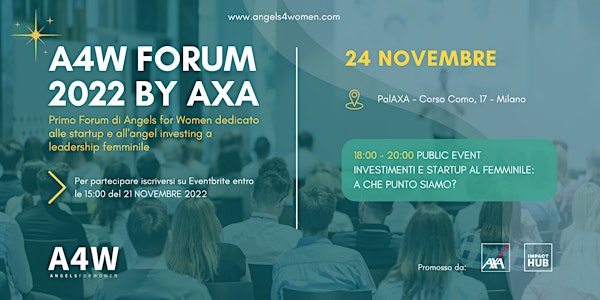 Angels4Women Forum by AXA
Investimenti e start-up al femminile: A che punto siamo?
When and where
Location
Palaxa 17 Corso Como 20154 Milano Italy
About this event
Ti diamo il benvenuto al primo Angels For Women Forum by AXA, che si terrà il 24 novembre al PalAXA di Milano.
Accrediti ore 17.30
Saluti di benvenuto:
Giacomo Gigantiello, CEO AXA Italia e Presidente Angels4Women
Stefania Quaini, Managing Director Angels4Women
Keynote Speech:
Azzurra Rinaldi, Direttrice della School of Gender Economics dell'Università Sapienza di Roma, aprirà il forum
Panel: Investimenti e Startup al femminile: A che punto siamo?
Una conversazione a più voci con investitori di Angels4Women e di altri network a confronto con fondatrici e CEO di startup.
Evitando il fin troppo presente e binario raffronto tra uomini e donne, affronteremo lo state of the art dell'angel investing e dell'imprenditoria femminile. L'obiettivo è chiaro e condiviso: avere un ecosistema equamente rappresentato. Una discussione per mettere in luce gli ostacoli ancora da affrontare e gli ecosistemi o dinamiche da abilitare per facilitare il raggiungimento di questo obiettivo.
Paola Bonomo, Consigliera indipendente, advisor e Business Angel
Antonella Grassigli, CEO e co-founder di Doorway
Giancarlo Rocchietti, presidente e fondatore Club Degli Investitori
Tiziana Monterisi, co-founder e CEO RiceHouse
Silvia Wang, co-founder e CEO Serenis
A moderare la serata: Emil Abirascid, giornalista, esperto di innovazione, fondatore e direttore di Startupbusiness
Al termine dell'evento si terrà un aperitivo di networking.
Sarà possibile registrarsi entro le ore 15:00 del 21 novembre 2022. L'evento è gratuito. Sarà possibile registrarsi fino a esaurimento posti e sarà fruibile anche da remoto.