About this Event
Join the best field and industry experts in the conversation on emerging EIM challenges and gain insights into the latest OpenText and AnswerModules technologies.
Why attend?
Share your experience with the community and learn about the most recent advances in the OpenText ecosystem.
AnswerModules and OpenText will present the opportunities brought by the new Cloud offering and the upcoming Smart View updates.
This will also be the perfect opportunity to directly hear from your peers and discuss about the challenges, best practices and practical solutions. Moreover, you will hear from top class professionals about how they leveraged AnswerModules solutions in their projects.
For those interested, take advantage of complimentary training the next day to jump-start or refresh your Module Suite skills.
Who should attend?
Organizations who leverage or are interested in adopting OpenText Content Suite or Extended ECM platforms.
The sessions will be beneficial for those involved:
with the development or management of EIM projects
in the EIM strategy decision making process
with proposing EIM based solutions to the line of business
Final Agenda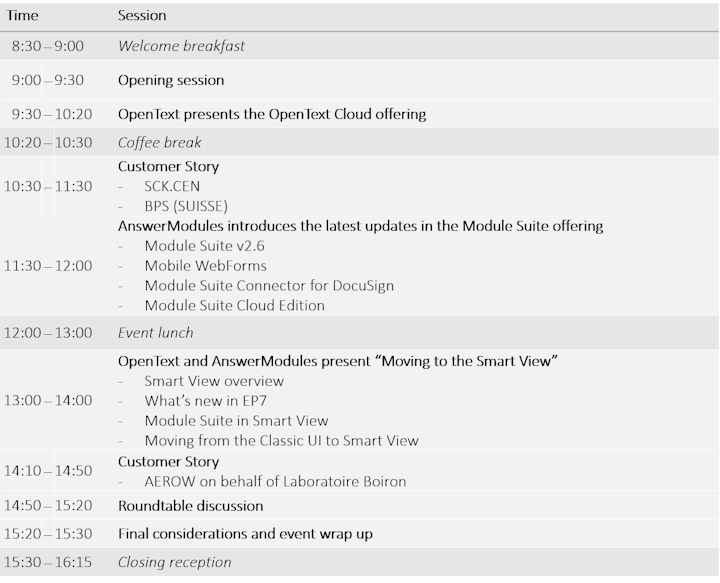 Training
The following day, October 24th, we're delighted to offer an accelerated Module Suite training geared towards a technical audience (developers, architects, analysts, solution consultants, etc.).
The complimentary one-day training (normally a $2000 session) aims to provide the fundamental know-how on utilizing and leveraging Module Suite in your EIM projects. While for experienced users it will be an opportunity to refresh one's knowledge and skills.
The training is open to all AMUG attendees, however a limited number of seats are available. During checkout please indicate your interest in the training, one of our representatives will contact you to confirm your participation.
The detailed agenda and venue info will be coming soon.
Venues
AMUG will take place at Lugano's cultural center LAC.
Thanks to LAC's central location, it can be reached both by car as well as by foot for those arriving by train.
How to reach the event locations?
LAC https://www.luganolac.ch/en/400/lugano-and-ticino-region
Training will also take place in Lugano at the Hotel de La Paix https://www.delapaix.ch/eng/hotel/pre-arrival-information
Accommodations
If you will be staying overnight in Lugano we recommend the following accommodations.
Have any questions?
Feel free to reach out to us at
info@answermodules.com or +41 91 2520259